Make Haste To Welcome Your Blessings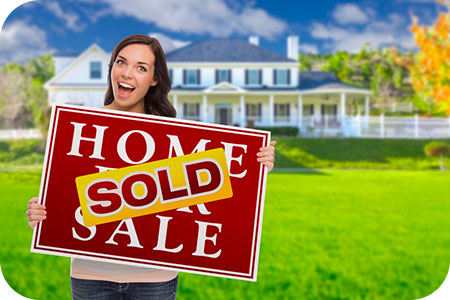 A friend was bursting with excitement recently over the possibility of a purchasing a new home. Her dream of home ownership was finally coming to fruition. Over and over again, she exclaimed, "I cannot believe this is actually happening!"
About ten minutes into our conversation, I found myself somewhat dismayed by my friend's inability to grasp the blessing in front of her. Astonishingly, she cried tears of joy for the opportunity to purchase her dream home, while quickly losing her enthusiasm and asking how could she be on the receiving end of such a gift?
Somewhere in my dear friend's consciousness was embedded a belief that not only was she not capable of owning prized real estate, she was equally not deserving of it.
I threw her a life vest, as I will no longer jump in the river of despair to save anyone. Although the tide of denial was high, and the currents of self-doubt were very strong, I reminded her of her rightful place in a glorious life. I reminded her that the Divine Presence within the Universe existed within her very being, and that love in its highest form radiated throughout her entire being.
Now, you might be asking, what's love got to do with this? Love has everything to do with moving our minds and souls beyond self-doubt and feelings of unworthiness. Love is a master healer that goes hand in hand with forgiveness. In its highest expression, love brings forth life, joy, and empowers each of us to become co-creators within our magnificent world. Love can be directed deep down to heal old wounds that have become anchors, and can free us from cold rivers of crippling despair.
My dear friend, like most of us, encountered a few 'curve balls' in her life – some anticipated, because of the role she played, and some unexpected. She took ownership throughout these challenges and grew from each experience. But where she failed was in not fully letting go and sending love to herself and others. In other words, she moved on from past disappointments… still feeling disappointed.
Count your blessings. Once you realize how valuable you are and how much you have going for you, the smiles will return, the sun will break out, the music will play, and you will finally be able to move forward the life that God intended for you with grace, strength, courage, and confidence ~ Og Mandino
As a result, she could only see clouds on a sunny day. When the love of her life asked her to marry him, she could only remember the heartbreak of a previous relationship. When her firm promoted her, she chose to compare her annual salary to senior executives with years of service over her.
So, when the realtor called with the exciting news that the home purchase was successful, my friend did not extend a welcome to lasting joy. Instead, she focused on the disbelief that her offer had been accepted.
At this juncture, I had to put on my spiritual counselor hat (the oversized one that is surrounded by spirit guides and angelic helpers). I took a deep breath and stood at the edge of the river of despair that continued to hold my friend in deep, perilous waters. I crossed my arms, cleared my throat, and in no uncertain terms told my friend to get out of the water because time was of the essence.
I then reminded her that a profound blessing was waiting for her acceptance and that it would not wait too long. I asked her to imagine a scale with all of her life's disappointments weighed against those experiences that brought her joy, even in small doses.
Quietly, she reflected on my words.
My next instruction for my friend was to connect to that joy through love. I told her to breathe in deeply the profound feeling of love and to allow it to fill her entire body, mind, and spirit. I watched as she nervously followed my lead. Her breaths moved from shallow to deep, and pretty soon I could see her shoulders and brow relax. Her hands slowly opened from tight fists to acceptance.
"Doesn't love feel great?" I asked. She replied with only her eyes. They were calm and reassuring.
Next I guided her towards letting go of those things in life that no longer serves her greatest purpose, which must be done with love and forgiveness. The risk of not inviting love and forgiveness to the party can become too big a price to pay down the road. Also, letting go completely is necessary for the letting in of blessings in all shapes and sizes.
What if you gave someone a gift, and they neglected to thank you for it – would you be likely to give them another? Life is the same way. In order to attract more of the blessings that life has to offer, you must truly appreciate what you already have ~ Ralph Marston
After completing this exercise with my friend, she picked up the phone to call her realtor with news that she would move forward with the purchase of her dream home.  "I cannot believe this," quickly shifted to, "I believe!" My friend for once in her life stayed in the moment connected to a feeling of genuine love and joy.
Just as I worked with my dear friend on letting go and accepting, I implore you to do the same in your life. Of course, I understand that work that involves deep emotional and mental processes can be arduous and complicated, and takes time, preferably guided by an expert. But as a spiritual counselor, I know wholeheartedly that Spirit can provide us with quickening-of-the-mind healing. In this classic manner, Spirit has the power to do what we cannot do on our own.
Many spiritual traditions contain parables and stories of individuals saved from perilous waters. We'd read about the blessing of rain following a long drought, or the birth of a child to a barren woman. Our modern world is full of examples of rags to riches, enemies to friends, hate to love, and despair to joy.
Time is of the essence when it comes to the flow of good into our lives. By making the best use of the gift of time, we can enjoy the many gifts of Spirit in all of their glorious forms. Come out of the river of despair and cut loose the boat anchors. Take out your old scale, if you must. But appreciate the gifts, big and small, and make haste in accepting them into your life.

About The Author: Shawna

Shawna lives in the American Southwest and is a third generation Spiritualist and Clairvoyant. She recognized her own gifts at a young age, fully embracing her calling as a Clairvoyant, Medium, Spiritual Astrologer, Tarot Reader, Aura Reader, Water Reader, and Healer, training under the tutelage of some truly gifted mentors. Shawna utilizes her natural psychic gifts to help individuals navigate through personal challenges and discover the higher manifestations of their life paths. She's provided positive, spiritually responsible, and ethical readings in-person, over the phone, and online, and has read for clients in Los Angeles--at psychic fairs--and at the Crystal Gaze Spiritual Center, in Lakeland, FL. She is also a trained practitioner in Clinical Herbalism (University of New Mexico), Ayurveda Medicine (San Diego College of Ayurveda), and Reiki. Shawna has channeled messages for political leaders, celebrities, and has accurately predicted the outcome of national campaigns, as well as a big career opportunity for a talented actor that resulted in a Tony Award! If you'd like an enlightening and empowering, full-spectrum of guidance, you can find Shawna at PsychicAccess.com.