Comfort In The Arms Of An Angel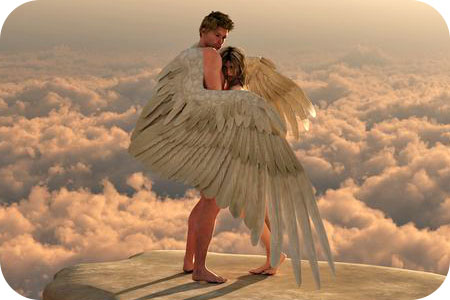 I often use one of the rooms at the local library to meet with new clients. Recently, while I was waiting in the library's cafeteria for a client to arrive, I noticed a radiant light coming in. It was shining on a very old lady seated just across from me. I then noticed there wasn't a window at all near either of us!
Soon it became clear to me that this unusual light that was shining down from Heaven. Then there appeared also an angel, standing right by her side. As my sight focused I could make out more of the angel, and I also noticed that the old lady was seated in a wheelchair. she had an oxygen tank attached to the wheel chair. She was with a younger women, who looked to be her daughter.
I did not notice much else, just how amazing the light was and how beautiful her angel or guide was behind her. I sensed it was there to comfort her, as she was in a lot of pain and probably would not remain long in this world.
I then realized it was time to leave to meet my client in one of the private rooms, but as I was leaving the cafeteria I heard someone calling my name. I stopped, turned around and saw it was the old lady's daughter calling my name as she walked towards me. She then told me we went to school together and I immediately recognized her!
I hugged her and told her that I was going to be late and had to run, but took her number. We agreed to make time for coffee and catch up. "I'm here every Monday at 3pm," she said, and I told her I would happily meet her for coffee, same place, same time. She agreed and we parted ways. Meanwhile her mother's angel was still standing watch over her and hadn't moved. I gave her a smile, waved and left.
It is impossible to see the angel unless you first have a notion of it ~ James Hillman
A few days later we met again and talked about the old days in high school. We then spoke about how her mother was not doing well and the details of her illness, as well as the emotional distress it has caused their family. I was thinking about the angel that was around her mom, just as she was telling me she had been praying for her, to ask that her transition be a peaceful one and that angels surround her. I told her that I believed she was in good hands. Without thinking I then confessed that I had seen a light around her and an angel. Surprised she asked me to repeat what I had just said and I suddenly realized I hadn't filtered my words. I normally do not reveal when I see such things, as some people feel really uncomfortable with such information.
Fortunately, I felt very comfortable sharing the truth about my psychic abilities with her and we ended up chatting for several hours. We discussed the spiritual realm and angels, as well as guides and how to connect with them. I even shared with her ways she could tap into her own intuitive abilities. I felt she was an empath and could sense things as well.
One should always take the time to witness to friends, family, neighbors, or even strangers because one should always remember they may indeed be entertaining angels ~ Chris Johnston
Three weeks later I received a call. My friend informed me that her mother had passed and she had been with her at the time. She had felt a presence in the room the moment her mother passed. She also heard a voice that said, "Your mom is going to go home now. Do not have any fear as she will be okay." Apparently her mother kept looking up saying, "So beautiful!" Then her mother found comfort in the arms of that angel.
The message arriving from her mom's angel at just that moment will be something that will stay with her forever, she said. I am grateful to have been able to rekindle a special friendship from the past and offer some awareness, peace and comfort to a family in their time of need.

About The Author: Moon Goddess

Moon Goddess is a third generation empathic healer and seer. She started to give healing readings to people more than 20 years ago. She has always been interested and studied all things metaphysical from a young age. Being hypersensitive she can feel and see things before they happen. Utilizing the Tarot, and with the help of her Guides, she is a source of support for many people all over the world. After he passed over, her grandfather kept his promise and came back to say goodbye and gave her the most amazing experience. Moon knows there truly is a Heaven, and it is wonderful! Sharing her experience has helped many people after they have lost someone, or anyone experiencing some form of grief. Get a reading with Moon Goddess now at PsychicAccess.com.


This site uses Akismet to reduce spam. Learn how your comment data is processed.