A Sense of Calm – A Message From My Guides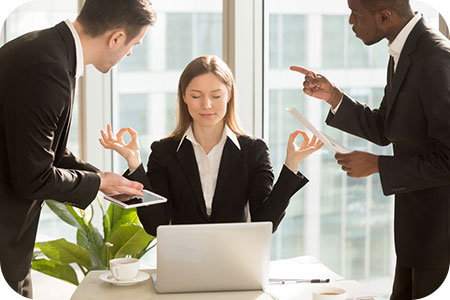 Sometimes the emotional charge of something as simple as a misunderstood comment, or a statement taken out of context, can throw even the most level-headed person into a tailspin. Developing a general demeanor of good humor can assist you in dealing with some of these most difficult, embarrassing or awkward situations encountered in life.
Everyone handles things differently, doing the best they can with the information they have at the time. Although, generally, the goal is to come to a better understanding and reach common ground, sometimes this takes much more time, effort and compromise than expected.
Although it is important to resolve an issue and clear the air, if possible, it is equally important to put each issue into context. Years from the date of the affront, will the issue be remembered at all and, if so, will it have anywhere near the importance that it did at the time? Certain issues will never be forgotten, however, they can often be forgiven for the sake of all parties involved.
Long after the dust has settled, though, some people are inclined to continue to ruminate and replay negative scenarios over and over again. This only serves to feed the flames of injustice and keeps the anger front of mind, long after the offending party has moved on physically and/or emotionally. As a result, rehashing the past can seem to perpetuate an aura of general negativity in your life.
Raise your words, not your voice. It is rain that grows flowers, not thunder ~ Rumi
This is when a generally pleasant temperament can swoop in to save the day. If it has been determined that nothing more can or should be done regarding a specific issue, then a positive state of mind can help create a different perspective and lighten the load.
For some, this turnaround does not seem natural. They would argue that their disposition has always remained the same and that 'pretending to be happy' is artificial and does not solve anything. This may well seem so, however, it is good to know that it is possible to cultivate a more gracious state of mind if that is the desired outcome.
Being good-natured or charming is usually effortless when things are going smoothly. The challenge comes when rough waters are encountered. This is when it is important to work on maintaining that generally positive bearing. Approaching life with an outward appearance of calm thoughtfulness can help you reduce stress internally and encourage clear thinking.
Whether it takes a minute of deep breathing, a scheduled meditation, going for a walk, working out in a gym and/or enjoying family and friends, it is important to feed your soul with positive influences.
Every time you are tempted to react in the same old way, ask if you want to be a prisoner of the past or a pioneer of the future ~ Deepak Chopra
In time, as you continue to keep the goal of a peaceful countenance with thoughtful discussion at the forefront in challenging situations, you will gradually feel differently and you will notice the affect this has on others.
Regardless of the seeming impossibility of remaining calm when faced with a confrontation, your ability to diffuse a situation before it escalates will keep your own stress level in check and allow you to think rationally. Ask questions to attain more information and clarity before making a regrettable statement.
Above all, do not allow someone else to determine your state of mind or dictate your actions.

About The Author: Monica

"What you think about, you bring about; what you believe, you become." This is Monica's philosophy, derived from her twenty-five years of experience as a Clairvoyant, Light Worker and Medium, living in Ontario, Canada. Monica has been a guest speaker at various Spiritualist churches, conveying Spirit greetings and messages from loved ones during Sunday services, All Mediums Nights, Healing Services, Meditation Services and special fundraising events. She's been an advisor to several international business leaders and connects with all of her clients on a level of love light and empathy. She delivers messages containing ideal outcomes and positive solutions with the help of her guides. If you'd like Monica to help shape your destiny, you can find her at PsychicAccess.com.