Psychic Predictions Are Potentialities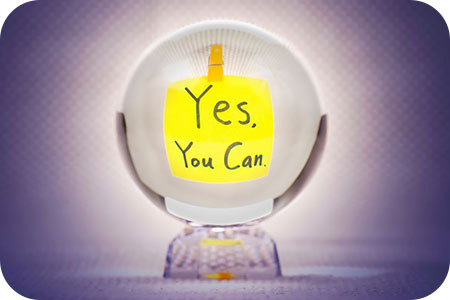 I have had readings with psychics and mediums that are considered the best of the best, and some of their information and predictions did not always work out so well. But I have always understood from a spiritual perspective that this is something that can happen from time to time.
People usually contact a psychic or medium for reading because they have questions and concerns. They are looking for answers, for guidance and support. Most people are looking for advice and closure in times of strife or turmoil – to give them hope that the sun will indeed rise again tomorrow. Of course, many people also hope to receive predictions about future outcomes.
In this regard, however, it is not always understood that whatever is predicted during reading is not always the absolute, gospel truth of the matter. Many people who get psychic readings are not aware that the outcome can change and that psychic predictions are never guaranteed. Outcomes do sometimes change, because people's energy, free will choices, and intentions change.
That brings me to related matter, in which I certainly do place the blame on the client. If you choose to put all your faith in a mortal, fallible person, and you give up your personal power, and what is called your free will over any given situation, then you are sure to run into some trouble organizing your life solely around your favorite psychic's predictions!
The future is not some place we are going, but one we are creating. The paths to it are not found but made, and the activity of making them changes both the maker and the destination ~ John Schaar
We are given our own mind for a reason. We all have intuition and gut feelings and we are supposed to take personal responsibility for all our choices and decisions in life. Readings are about possibilities and potentialities. Not certainties.
If your psychic advisor predicts that things will turn out just fine, it does not mean you can sit back and just let life happen to you. It is not always a good idea to just let the chips fall where they may all the time. As the old saying goes, birth, death and taxes are the only thing set in stone.
For example, as a psychic advisor, I am asked all the time if the person they are dating really loves them. And sometimes the answer is yes. But there is an old song that says, "Tonight you are mine completely but will you still love me tomorrow?" This is where that old free will comes in. What if the person gets cold feet at some point, or changes their mind? People change their mind all the time. Nothing we choose or decide is forever carved in stone. Everyone also has the right to change their mind at any given moment. A lot can happen that may make a person change their mind.
I personally advise my clients to listen to the advice from spirit and take from a session what feels right in their heart or gut. Try not to just hear what you want to hear, and ask yourself if it really does resonate as your inner truth.
The next question to ask yourself is, "How I am going to react to this information? How will it help me or the people around me?" It's always a great feeling if a reading confirms that you are making good choices and on the right path. It's nice to hear only good things in a psychic reading, but it is not definitely not helpful if the reader is getting a negative answer about something, and you are not open to receiving the message, because you only want her to deliver positive information.
If I don't know the real situation, you also can't change it. Hearing the true information will help me make an informed choice or decision going forward. And even if you choose to make the same choice, it always helps to review all possible resolutions before you do.
It is possible to reclaim your future, to build a happy life despite an imperfect past. We can order the universe to our will and mind ~ Katherine Marsh
When difficult information comes to me during a reading, I always try to deliver it with compassion. If you feel judged in a reading with a caring psychic, it may be that your energy simply does not blend with that particular person. There are a lot of wonderful advisors. Just like you would look for a good doctor or hairstylist, find someone that you feel comfortable with and trust. Always trust your inner voice. Your higher self knows what is best for you.
Some psychic readings are meant to help you move out of situations that are hurting your soul. Sometimes a reading is meant to give you hope and courage to make those tough changes in life. Even if the changes are not made immediately, it is planting seeds of change for you to make a life decision in your own time at a later stage. It's all in the timing. What is right for one person, may not work for another.
By the way, time is always the hardest aspect to predict. Most, if not all psychics will tell you this. I always say, "I work with spirit… and they do not wear a watch!"
Always remember at the end of the day you are the only one that can make the change no matter what advice or prediction is given.

About The Author: Elizabeth

Elizabeth's talents go back several generations. She found her own gifts and embraced them at an early age, recognizing the difference between herself and most others around her. She's since honed and mastered many metaphysical practices, providing hypnotherapy, Psychic Mediumship, Mysticism, and Hypno-Reiki to her clients in Maine, and in areas around the US and in Canada, where she travels. A lover of pets, they are her greatest teachers and these unconditionally loving creatures often chime in on a reading in addition to the Angels, Guides and loved ones who provide resolution and answers for each of her clients. Elizabeth is also an author with much spiritual wisdom to impart and is currently working on a book. If you'd like to be a recipient of her unique Psychic Wisdom, find peace and receive answers that will also benefit your highest good, you can reach Elizabeth at Psychic Access.


This site uses Akismet to reduce spam. Learn how your comment data is processed.