Spiritual Hindsight Is Twenty-Twenty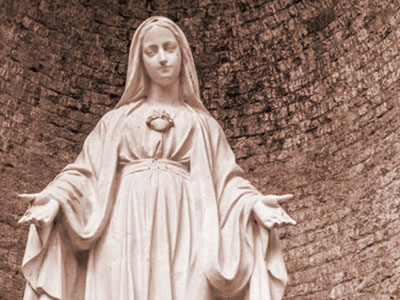 As a teenager, I knew I had psychic abilities. I just wasn't able to label it.
I think having intuitive abilities, such as knowing things before they happen, seeing auras, and sensing negative and positive energy, is something we all can do. I just had a real knack for tapping into that part of my mind, because I spent a lot of time by myself in the outdoors, or in my bedroom, and steered clear of drama and human chaos. Also, I hardly ever was exposed to electromagnetic poisoning by way of modern technology.
I was not raised Catholic, but while on a walk one day, I found behind a church a lineup of saint statues. At the end of the row was Mother Mary. I remember very clearly sitting in front of her sculpture and seeing an angel next to her. I prayed, as I was taught to do from a very young age, to be shown what I will be doing in my future. I wished to see who I will be, or at least get a glimpse of what lay ahead for me.
Hindsight is good, foresight is better; but second sight is best of all ~ Evan Esar
I asked this in my own authentic way at that age. Then I let go and gave it to God and just went on with my life. While delivering the newspaper one day, as that was my weekend chore, I went up to a home where this elderly lady had special instruction for where she wanted her newspaper delivered. I was to go into the garage and place it in between the two doors leading into her house. However, this time she had the second door opened, so I could see into her house.
What I saw was her doing Yoga. Mind you, this was around 1985 and Yoga wasn't as popular as it is today. She saw me, greeted me and thanked me for always doing a little extra to help, as she sometimes would neglect to open the front door and get the newspaper. Sometimes it would be soiled with rain when she forgot to pick it up.
Then she said, and I remember it very well, "Here dear, take this and keep it with you, this is my thank you for your diligence in bringing me my paper just how I like to receive it!" I said thank you, and held out my hand, and she placed a blue lace Agate and a Moonstone in my hand and then with her hand closed my hand. I could see she was wearing what I know today to be a Moonstone in her necklace.
She was very sweet. I discovered later that she appeared to be much younger than she really was. When I read her obituary years later, I learned that at that time I saw her doing Yoga she was 72 years of age. At the time I thought she was at least 20 years younger!
I have often had a retrospective vision where everything in my past life seems to fall with significance into logical sequence ~ Ansel Adams
To this day I use the blue lace Agate and Moonstone she gave me, and I now have many more of them in my collection, along with all my other crystals and gemstones. I also do Yoga on a regular basis.
While I was doing my daily Yoga routine the other day, I remembered my prayer that day at Mary's statue, to show me who and what I would be when I got older. I then realized after all the years that Spirit directed me to the Yoga lady, because in her obituary it also had said what she did for a living. She was a psychic medium.
Ask and it shall be given… and shown to you! I had never put two and two together all this time. I was shown that which I had asked to be shown. But I did not pay attention when the answer came. Hindsight is always twenty-twenty.

About The Author: Moon Goddess

Moon Goddess is a third generation empathic healer and seer. She started to give healing readings to people more than 20 years ago. She has always been interested and studied all things metaphysical from a young age. Being hypersensitive she can feel and see things before they happen. Utilizing the Tarot, and with the help of her Guides, she is a source of support for many people all over the world. After he passed over, her grandfather kept his promise and came back to say goodbye and gave her the most amazing experience. Moon knows there truly is a Heaven, and it is wonderful! Sharing her experience has helped many people after they have lost someone, or anyone experiencing some form of grief. Get a reading with Moon Goddess now at PsychicAccess.com.


Posted in

Angels, Career, Children, Crystals & Stones, Intuition, Law of Attraction, Life Design, Lightworkers, Psychic, Spirituality
|
Tagged

awareness, childhood, Children, Crystals & Stones, faith, future, gifted, guidance, Indigo children, Intuition, intuitive, life purpose, memories, moonstone, omen, prayer, prophecies, Psychic, psychic abilities, psychic attunement, psychic awareness, psychic medium, psychic predict future, religion, signals, signs, spiritual awareness, spiritual messages, synchronicity, Yoga
One Response to Spiritual Hindsight Is Twenty-Twenty
This site uses Akismet to reduce spam. Learn how your comment data is processed.