Happiness Is To Follow Your Path With Joy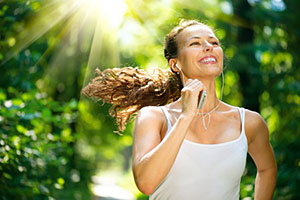 Discouragement, failure, heartache. Poor Moses did not have it easy. He went daily to the throne of the Pharaoh to ask for the release of his people. His life hadn't started out very well. His mother had to hide him in the bulrushes, so he wouldn't be killed right after his birth.
Then he went to live in the princess's house, and knowing he was different he often felt alone. Adopted by royalty, his biological mother and sister were still living as slaves in the fields. He wasn't happy. He should have been in high spirits, because he had everything a young man could desire… except he knew he didn't belong.
In the hopes of reaching the moon men fail to see the flowers that blossom at their feet ~ Albert Schweitzer
Then, before he realized what had happened, this young man had killed an Egyptian soldier! So, here he was, a sought criminal, running away and going into hiding.
He had a stutter when he spoke, so he was a quiet man. But then Great Spirit puts him on his true path, instructing him to "go talk to Pharaoh, tell him to let my people go."
What! Look, this path can't be right? Yet, reassured by the prophets, the messengers, he embraced his task of getting the Israelites out of Egypt. With his brother by his side to do the talking, Moses finally went to the Pharaoh, and kickstarted the dream of freedom from slavery.
God helped Moses by creating problems for the Egyptians. He sent plagues and calamities. At first the results were disappointing and there was no change. Time after time, ten times in fact, just as the release seemed to be granted, the Pharaoh snatched it back again. But eventually see the plan finally work out.
Tragically Moses never got to enter the new promised land of his freed people. He was refused entry because he did not do what Spirit asked him to do. He made the choice and paid the price.
We have choices. But usually we want it free, we want it quick and easy, we want now. And if we do not get it that way, we become upset. But this is why Moses didn't get in. He got mad, and did what he wanted to do, instead of following Great Spirit's guidance.
Our struggle for happiness continues to this day. We fight the path, we get angered, we get discouraged, more importantly we make bad choices and we grow weary.
The man is happiest who lives from day to day and asks no more, garnering the simple goodness of life ~ Euripides
Here are a few strategies to ensure your spiritual path runs a little more smoothly:
1. Open our mind to possibilities, not impossibilities.
2. Shoo the bogey man out of our head.
3. Dance in the sunlight.
4. Dance in the rain.
4. Dance in the moonlight.
5. Dance with the fairies.
6. Sing like nobody is listening.
7. Sing loudly.
8. Give someone a hug.
9. Smile a lot.
10. Make lemonade out of the lemons life hands you.
Happiness is a state of mind. Happiness is within ourselves. Happiness is a mind set, that we can create. It is an inside job.
Oh yes, we can fill our heads with negativity, with being "realistic". We can face reality, see the "facts," but there was a time when the "facts" were also that the world was flat.
Yesterday's reality is not today's. Today's will not be tomorrow's. Dwelling on yesterday, we can lose our happiness, but learning from yesterday makes us glad. Happy is as happy does, so clap your hands if you are happy and you know it!

About The Author: Mariella

Mariella is a New York resident, born in Italy, who began accurately reading at the age of eleven with just an ordinary deck of playing cards. She's since designed her own deck of Tarot cards as well as a unique time board that provides clients with startlingly accurate time frames for her predictions. For a reading with this warm, funny, and highly detailed Clairvoyant and Empath, you can find Mariella at PsychicAccess.com.