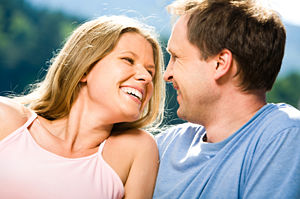 We are all walking magnets. We attract or we bounce off of one another. When we are lucky enough to find someone whom we don't bounce off of, and feel a connection or desire to be with that person, it's because we need something from them that can help us on some level. It could be spiritual, emotional or psychical.
There has to be something to help us evolve in this incarnation in order for us to feel that connection, or rather desire, to spend time with a person or share the same space for a time. I feel that this attraction remains alive and fresh; it never thins, our or dies out. It is the 'magic ingredient', if you will, that keeps us with a spouse or partner with whom we are in a relationship.
That 'spark' between people is nothing more than an unforeseen electrical current and it comes from our heart. It is where jealousy doesn't live, or feelings of greed. It's just nothing other than love. It's that feeling you have for someone that makes you notice their beauty, even if they just woke up.
Love is an energy – it can neither be created nor destroyed. It just is and always will be, giving meaning to life and direction to goodness. Love will never die ~ Bryce Courtney
This attraction is the allowing of things to just be, without the feeling of having to control the moment or situation. It's in the silence of the unsaid words that is just 'knowing'. It's true that words can absolutely get in the way.
So, enjoy the one you're with and keep that attraction alive with just doing nothing other than just being. Enjoy each other's company and share the beauty of the sunrise and sunset. Just enjoying sharing space. It doesn't have to be complicated.
It's when we hear the negative, and believe those negative feelings and thoughts, that negative forces come in to destroy something great we have going on in our lives – no matter what it may be. So, control those negative emotions and keep that love attraction alive!
PsychicAccess.com.


Moon Goddess is a third generation empathic healer and seer. She started to give healing readings to people more than 20 years ago. She has always been interested and studied all things metaphysical from a young age. Being hypersensitive she can feel and see things before they happen. Utilizing the Tarot, and with the help of her Guides, she is a source of support for many people all over the world. After he passed over, her grandfather kept his promise and came back to say goodbye and gave her the most amazing experience. Moon knows there truly is a Heaven, and it is wonderful! Sharing her experience has helped many people after they have lost someone, or anyone experiencing some form of grief. Get a reading with Moon Goddess now at