Psychic Gift Could Be Hereditary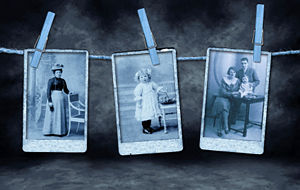 Have you ever wondered if psychics are born, or do they become psychic? How do some psychics receive their gifts? To be honest, I have often wondered how I got the gift of being a psychic.
It is my belief that having a psychic gift can be hereditary. I know this, because I am one of  several third-generation psychics in my family.
My father's side of the family is of German-Swedish origin and my mother side is Native American, specifically from the Blackfoot tribe. When I did research on both sides of my family, I discovered that there were cousins and distants relatives on my mother's side who are also psychic. My mother was also psychic and she brought me up to be proud of my heritage. My mother still visits me in spirit.
To forget one's ancestors is to be a brook without a source, a tree without a root ~ Chinese Proverb
At our last family reunion we took some pictures. When we got the pictures back, I noticed that there were many orbs in the images. A specifically interesting one, which I did not notice at first, is the one with my son, Raymond, and me. There was an intriguing orb between us, which looked like a third person in the picture.
I sent the picture back to store to have it enlarged. When I received it back, I noticed immediately that the shape of the orb reminded me of my mother's facial features. It looked like she had her arms around us. I believe that deceased loved ones will show up at family events and gathering, because they are still a part of the family.
No matter where my sixth sense comes from, I always give God the credit for my psychic abilities. It is a gift from God, whether it is hereditary, or not.
About The Author: Raymond

Growing up on the streets of Columbus Ohio, Raymond learned at a very young age that he was gifted in many ways, including the ability to read someone's eyes and using a regular deck of playing cards to read the future! His mother was from a Native American family, namely the Black Foot tribe, and his father was German. Raymond discovered that both sides of his family had a psychic legacy. Over the years he has gained additional knowledge from books and by talking to trusted family members. Raymond has been doing psychic reading for others for over 3 decades, and over the years he gained many loyal clients from all walks of life. Visit Raymond for a reading at PsychicAccess.com


<!div id="networkedblogs_nwidget_logo" style="padding:1px;margin:0px;background-color:#edeff4;text-align:center;height:21px;"><!a href="http://www.networkedblogs.com/" target="_blank" title="NetworkedBlogs"><!img style="border: none;" src="http://static.networkedblogs.com/static/images/logo_small.png" title="NetworkedBlogs"/><!/a><!/div>