Love At First Sight Is A Spiritual Experience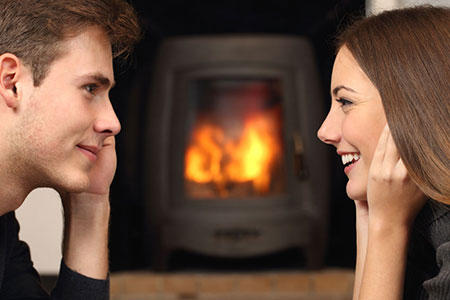 Do you believe in love at first sight? I do. I believe that you can meet someone for the first time and instantly fall in love with them. It makes complete sense from a spiritual or metaphysical perspective. We are after all energetic beings having a physical experience, so of course our souls can recognize each other.
Some folks are convinced love at first sight is nothing more than just 'lust at first sight,' because love and lust are closely related in many people's life experience. I am sure in some cases it can be both love and list, but in most instances it is not. And even lust at first sight can very quickly turn into love when there is an underlying soulmate connection.
Truth is, love at first sight is a reality for many people all over the world, simply because of their own personal experiences. And often these couples stay together for a lifetime. This may be hard to believe for some of us, who might have been less fortunate in love and romance, but it does happen more often than you may think.
How do you know when it is love at first sight? You may be surprised to know that some of the confirmation can often be found in the gut-brain connection. Your inner guidance system will always tell you when you have encountered someone special and meaningful. Your intuitive reaction to the other person will often be supported by a physical sensation. For example, you may feel a little queasy when you meet, or feel a sense of having 'butterflies.' There are also other physical signs that you are deeply attracted to someone at first sight, such as your heart racing, nervousness, and perhaps that goofy smile that will not leave your face!
Love at first sight is easy to understand; it's when two people have been looking at each other for a lifetime that it becomes a miracle ~ Sam Levenson
When you meet that special someone you usually also want to know everything about them. An intense interest or fascination with someone is typically a clear sign that you are experiencing love at first sight. When two people feel the same for each other, and they lock eyes on one another, they basically block out their awareness of anyone and anything else. It's almost as though you are the only two people in the world in that moment.
It is also very common to feel as though you have already met this person before, that you have known each other for years, or that your connection to this person may have existed before in another lifetime. You also know it is love at first sight when nothing feels pressured – it all seems so natural, easy and comfortable.
The process of falling in love at first sight is as final as it is swift in such a case, but the growth of true friendship may be a lifelong affair ~ Sarah Orne Jewett
Of course, any lasting relationship always does need time to nurture, grow and develop, no matter how long it took you to fall in love. A healthy, happy human relationship requires hard work, dedication and commitment, and the willingness of both parties to compromise and make sacrifices, regardless of your underlying spiritual connection, or your initial soul recognition. But if you experience love at first sight, don't let anyone tell you that it isn't real, because even if you don't know how to explain it, there are times when you just know. Trust your gut.

About The Author: Lucinda

Lucinda is a highly trained Intuitive and Empath, living in a beautiful village in North Yorkshire, England. She possesses the rare gift of understanding a client's personal pain and has been through many challenges, herself, which has only made her stronger! It is both her calling and her happiness to help those in need. And whenever she needs a little help herself, her Guides are always there to assist in her development and provide clear interpretations for her clients. Prediction has always been a great tool she could count on to accurately foretell events, but Lucinda also draws on her expertise with Dream Interpretation, Numerology, Angel Cards, Law of Attraction and Life Coaching to provide full and detailed solutions to any problem. A member of AMORC and Beyond Freedom Evolution, she provides inspiration, education and personal support for spiritual development. If you'd like answers or want to attract your desires, you can find Lucinda at PsychicAccess.com.