Reuniting With My Psychic Soul Sister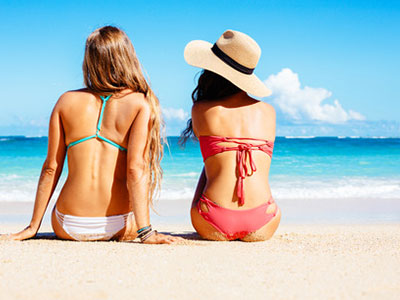 It is so very cool what miracles can happen when we take the time to relax and become aware of our surroundings, and our psychic antenna is open to connect with those who are on the same frequency.
I was at the beach over the summer, sitting on my beach towel in a deeply blissful, meditative state of mind. I had my umbrella set up, and a cooler with some water and healthy snacks – totally prepared for a relaxing day of doing absolutely nothing!
I took some deep breaths and looked out over the horizon, and focused on the waves. I was allowing whatever personal spiritual messages might come to my awareness. I was very much connected to what spirit was wanting me to know. Whatever is meant to happen will happen, but only in Divine Timing. We can never force anything, but all good things do indeed come to those who relax and allow the ebb and flow to reveal everything in perfect timing.
We are kindred spirits, you and I… One day you will realize you don't have to fight your nature. You can live your life freely… I want to be there when that happens ~ T.T. Escurel
I decided to pull out my oldest Tarot card deck and did a little reading. It revealed that soon I would be connected with someone who would be a kindred spirit. The universe was going to connect me with someone from the same place I came to this planet from.
I put my Tarot cards away and rolled up my Yoga blanket, to place under my head. Then I just laid back and forgot about the mini-reading I had just done for myself.
A while later, I woke up from a brief nap and noticed a women walking by. She smiled at me and pointed at the beach wrap I was wearing. "Did you get it in Mexico," she asked. I said I certainly did! We talked for a few minutes and then she came to sit down next to me.
She thought it was really cool that I felt comfortable to go to the beach by myself and how she too enjoyed spending time on her own. I noticed her aura, and told her I could tell she had very positive energy. She said it was great to meet me and that she hardly ever approached strangers, but could tell from my aura I was also a very peaceful person, and that she liked my energy as well.
She said that she had to take lots of time for herself, otherwise her health suffers. She, like me, is allergic to drama and chaos, and often prefers her own company. She, like me, has been psychic since birth. I found it so interesting that she was born two days after me, and most of all that she also came from Epsilon Ursae Major, the brightest star in the constellation of Ursa Major. This bright blue-white star is located in the tail of the Great Bear. She is definitely a kindred soul.
You have to appreciate where you have come from to know who you are in the present and whom you would like to be in the future ~ Truth Devour
After talking for what seemed like a very short time, but actually ended up being a few hours, we became fast friends and exchanged social media information.
She had been recording her dreams, she told me a few weeks later. About a month to the day that she had met me, she had a dream of being on another planet, where the colors were so vivid and much different than that of Earth. She said there were two little girls in her dream, one being herself and the other she felt was me. "We were building sand castles together on a beach of very white silky sand," she said.
I then looked back in my own dream journal, to my entry for that very day she had her dream. Amazingly, I had a dream very similar to hers! I was on a lake (I'm not sure if it was an ocean or lake, but wrote it down as a lake) on a small boat, and  I could see someone on the shore waving at me. I was trying to get the boat to move in closer to see who this person was. I found it to be odd, because I wanted to get to this person and just thought to let the wind push me to shore.
Our dreams are so important. They are indeed a preview of life's coming attractions, to be sure! I will never forget the feeling I had as I drove home from the beach that day. I was thinking to myself, "I just met a very important kindred soul, my psychic sister from a past life."

About The Author: Moon Goddess

Moon Goddess is a third generation empathic healer and seer. She started to give healing readings to people more than 20 years ago. She has always been interested and studied all things metaphysical from a young age. Being hypersensitive she can feel and see things before they happen. Utilizing the Tarot, and with the help of her Guides, she is a source of support for many people all over the world. After he passed over, her grandfather kept his promise and came back to say goodbye and gave her the most amazing experience. Moon knows there truly is a Heaven, and it is wonderful! Sharing her experience has helped many people after they have lost someone, or anyone experiencing some form of grief. Get a reading with Moon Goddess now at PsychicAccess.com.


Posted in

Empath, Intuition, Lightworkers, Metaphysics, Paranormal Phenomena, Psychic Phenomena, Reincarnation / Past Lives, Spirituality
|
Tagged

bliss, breathing, dream, dreaming, Dreams, friends, journal, lifetime, magic, Meditation, miracles, omen, past lives, precognition, predictions, premonition, Psychic, psychic attunement, psychic awareness, psychic predict future, psychic reading, recreation, relaxation, soul agreement, soul group, soul recognition, soulmate, spiritual messages, Starseeds, synchronicity, Tarot, tarot deck, Tarot readings, twin soul
One Response to Reuniting With My Psychic Soul Sister
This site uses Akismet to reduce spam. Learn how your comment data is processed.