Release Then, Embrace Now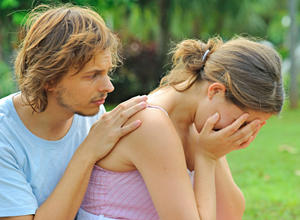 I had the most interesting and heartfelt psychic reading the other day. Once it was over, I thought about my responses as a reader for this particular subject matter and how we live and, hopefully, learn.
This was a case of lost love come back around again, after many decades of separation and years of wondering 'what if?' My client had loved and lost her soulmate when they were mere teenagers, many moons ago.
The parting had not been a willing one for either of them, but as we all know our parents' opinions when we are a certain age tend to determine our decisions and actions. The two parted ways and each went on to lead their own lives with other people, but in their hearts they never forgot each other. It took a long time, but their paths crossed again – this time with life at the helm of this ride, as opposed to their parents' wishes and decrees.
Their original parting was so painful for the woman that, although she was so happy to see him again, she could not help but react from a perspective of fear and panic. She approached their reconciliation from the then place, which was one of loss and confusion.
True love stories never have endings – Richard Bach
During our reading it was immediately apparent that there were many rivers to cross. The first words from me were: "there is so much love here waiting to happen!" Little else seemed to matter much at all. But the client was still stuck in the past.
Then a pearl of wisdom came from Spirit. "Right now is right now," the Angels said. "We would not have brought the two together were there not unfinished business and love here to attend to. Tell her to forget what happened then, to just let go."
"Once she releases it she will be able to see the now," they continued. "Then she can come from an open stance, not from fear of loss. She won't experience the same scenario again or have it re-enact itself, because she will have released the past. It will literally be a new lease on life."
When love is not madness, it is not love – Pedro Calderon de la Barca
Once I said it all, I knew it was an Angelic Channel responding to her cry for peace. When we concluded the reading she was a lot calmer than when we first spoke. She was in the present, the gift of the now. She could act, or not act, based on the secure knowledge that the past was not doomed to repeat itself. Her thoughts and ways of being and reacting had shifted, allowing room for other parts of the puzzle to shift itself as well.
It all fits together in the end, should we allow it to. If we don't it is kind of like saying a prayer and then continuing to worry about the subject on which you have prayed. How is that any resolution?
Allowing things to fall into place of their own accord saves much energy and time. That way we can move from the then to the now, and on to the Zen space; our ultimate quest for inner peace in all things. Then we understand that Inner Peace is found within and that all our actions and reactions were a waste of time and space. Only then are we truly living free.
About The Author: Asherah

Asherah is a natural born psychic empath born and raised in Kingston Jamaica. An ordained Reverend and High Priestess, Asherah can easily tap into your real truth and help you to see clearly, releasing attachment to outcome by simply focusing on where you are now. Using tarot, numerology astrology and more..you can learn how to communicate your needs today! You can get a psychic reading from Asherah at PsychicAccess.com.


2 Responses to Release Then, Embrace Now