A Miracle Horse Named Jake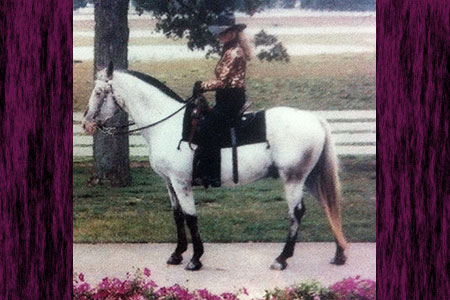 My passion for animals is far-reaching and horses are a definite favorite. They are amazing creatures that have been roaming the planet since the beginning of time. They started out humbly, but worked their way up the evolutionary ladder.
There is one particular horse that I will never forget. He entered my world about 6 months after my beloved American Quarter Horse, Luke, had passed away at the age of 22. I yearned for a new four-legged friend and found Jake for sale on a nearby farm.
I wanted a horse that would be good on trails, like Luke used to be. As I looked at the herd, one horse stood out instantly, staring at me with eyes that touched my soul. Jake wasn't the prettiest horse there; he had lots of nicks and bite scars on his body. He was a white horse with a black mane and tail, with black varnish markings on his legs and face.
The owner told me that Jake was unfortunately not the most willing horse on trails, but I still had my sights set on him. He also mentioned that a thorn from a tree had broken off in the horse's eye, several months back, but it seemed to be fine now.
As the man brought him out, I noticed he was heavy-handed with him and used force when not needed. The horse looked at me intently. I could clearly sense his sadness. He was not happy there.
The owner then saddled him up for me to ride, and he cut a branch from a nearby tree to use as a switch. "You'll need this on the trails," he said. I politely took the makeshift riding crop (with no intention of using it) and headed off to the wooded trails nearby.
Jake was quiet and we were feeling each other out. It was soon evident that he was a caring horse that aimed to please. I enjoyed the ride, and tossed that stick on the first turn. That was the day I started the love affair with my new Colorado Ranger horse. Only 5,000 of Colorado Ranger breed were registered at the time. The man could not recall how old Jake was, but when I got his papers I found he was 22 years old.
For there is no other feeling in the world to compare with it if one loves a great horse. It gives a thrill that nothing else ever can. It cannot be put into words, because words cannot express it ~ Samuel Riddle
Through the years we became deeply bonded and his personality grew on me. In 1998, I started an equine drill team called Horsemen of Precision Entertainment (H.O.P.E) to help others bond with their horses and show them off in performances. This venture was a great success and as we started touring further afield.
Jake never skipped a beat in all our shows. He was the lead horse to 16 other horses and even with music, cantering and flying through side-by-side horses, he never faltered.
In 2000, we were getting ready to take the horses to Kentucky Horse Park for a week of shows. Special tests where needed by a vet for us to travel out of state with the horses. When the vet examined Jake he said, "Do you realize he is completely blind?" That thorn in his eye must have caused this. I was devastated.
The show must go on, so I put Jake in a side pasture next to the arena and saddled up one of my other horses. The music for the show started and as lead rider I entered the arena on cue. The other riders were to follow me once I was half-way in, but I could hear no sound of hoofs behind me.
I looked around to see what was going on and they were all frozen at the entrance, not even looking at me. They were all staring at Jake in the pasture, where he was happily doing the entire show routine, with no rider. And he did not miss a single cue.
When your horse follows you without being asked, when he rubs his head on yours, and when you look at him and feel a tingle down your spine…you know you are loved ~ John Lyons
From that moment I started looking at the bigger picture of life through Jake's eyes. You see, I had been Jake's eyes for a long time, without even realizing it. Our meeting all those years ago was no coincidence – it was synchronicity. Our partnership was our destiny and we had a soul contract.
I had empowered him to be the special horse that he really was – a horse that got applause and extra attention, and he loved it! Jake lived for the applause and was a true performer. So, now it was simply up to me to learn to ride him in a different way, because Jake did not want people to think of him as a blind horse! My job now was to give him back his pride and his purpose in life, and I did just that. Jake and I continued to successfully perform with the drill team for many more years, until 2010, when he finally passed away at age of 38.
Jake was a walking miracle, and my hero. He made me see that being old or disabled isn't a reason to give up and stop living. I am crying as I write this, for the sense of longing never goes away. It is indeed a gift to bond with one of God's uniquely special creatures in the way I did with Jake. It is a once in a lifetime privilege.

About The Author: Krystal

Krystal's psychic talents with people and animals are as remarkable as her non-psychic adventures. Divinely gifted with multiple avenues for reading energy, she's hosted TV and radio psychic shows that quickly skyrocketed to #1. She has read for musical celebrities, provided lectures and is an Ordained Minister who has performed marriages and eulogies. She was also the first female race car driver, holding 4 titles, her accomplishments immortalized in a book! For over 4 decades, she has connected with her Guides, receiving visions and info from just the sound of a client's voice, and she's taught many devoted pupils to tap into and harness their own special gifts. From her dream home in Ohio on 200 acres that house a menagerie of animals, including mini-horses, Krystal can be found whittling walking sticks on her porch that tell a person's life story, and her readings will hone in on your unique life story, providing clarity on any concern. She brings balance, love, and healing, not to mention love and light to your life path. She has 12 natural spiritual gifts that require no tools to get the message across. Her guides offer detailed insights on all you need to know at the moment you enter her session. If you would like a reading with a psychic prodigy who's been reading since the age of 5, you can find Krystal at PsychicAccess.com.