Using Crystals To Reduce Stress And Anxiety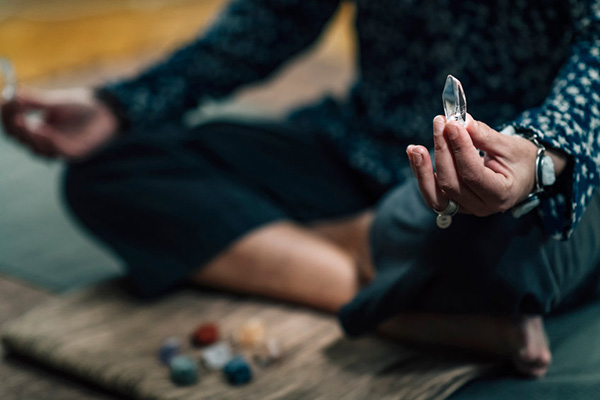 We all live with various amounts of stress in our daily life, and the last few years have been especially trying. But stress doesn't have to be overwhelming for the spiritually conscious person. Apart from meditation and similar spiritual practices, an especially powerful ally can also be found in the use of various types of crystals. Whether you choose to keep them in your pocket, wear them as jewelry, or use them in your energy work, there is a crystal for everyone based on your own needs and affinities.
Among the most popular stones for crystal therapy and relieving stress is quartz. It's easy to obtain and comes in different types. Clear quartz (what many people might think of when they visualize a crystal) offers clarity and vision when things seem muddled. Like a prism, it also brings out the hidden qualities of other crystals.
But quartz is also available in other colors to support us with life's many challenges, such as rose (pink) to settle turbulent emotions and find solace when broken-hearted, and smoky (grey) to bolster our courage.
Another popular clear stone is citrine. As its name suggests, it is orange or yellow in color. Carrying a citrine stone is like having a drop of sunlight in your pocket; it wards off the gloom on even the worst 'rainy,' stressful day.
Blue agate (available in different shades) is useful when clearing up stress related to miscommunication. It is a recommended to keep one at the office or take it with you to school.
Almost as popular as quartz, amethyst (opaque purple) is a go-to if you tend to suffer from nervousness, anxiety, or panic attacks. It can be used while reciting mantras to invoke deeper serenity and calm.
If you're into them, you know: There's a crystal for everything. Some can ward off negative energy, others can heal your broken heart, and still others can be used to calm you down when your stress levels are flaring up. ~ Elizabeth Gulino
A lesser-known, but no less potent crystal, sodalite (varying shades of blue or purple) is also known as the 'crystal of peace' and is often used for insomnia or restless sleep. Find one to keep on your bedside table if you're not getting enough rest.
Variegated (multi-colored) crystals are beautiful and unique. Lepidolite is a mineral ore of the element lithium, often used to counter anxiety. If you're experiencing stress at home or with your family, it's an excellent choice. Rhodonite (typically pink or purple mottled) might be ideal if you've undergone a traumatic situation and are healing from pain, or suffering post-traumatic stress. And lapis lazuli (legendary for its bright blue hues) bridges us to higher spiritual truth, so it is good to harness its energy for those sources of anxiety.
The darker crystals such as obsidian, hematite, and shungite absorb anxieties (the color black absorbs all other colors). We can think of them like a 'magnet' to take away stress and anxiety when it becomes overwhelming. They are strongly associated with the element of Earth and remind us to stay grounded and centered when everything seems to fall apart.
There are countless sources of anxiety and stress we face, but there are just as many beautiful and diverse crystals to help us through it. If you are looking for help and don't know where to turn, learn more about crystals, their unique energies, and how they can work for you to overcome even the highest levels of stress.

About The Author: Mystic Shelley

Mystic Shelley is a five-star psychic, Reiki healer, clairvoyant and empathic reader. She offers her clients honest answers about past, present and future events with the help of her trusted guides. She reads in the area of love, relationships, career, money and all matters of life. Mystic Shelley was born with talents that would later mark her as a gifted psychic, but she chose not to embrace them early on. In her 30's, a not-so-chance meeting with a celebrated psychic set her on a course that awakened her gifts. Born with the gifts of clairvoyance and empathy, her psychic mentor helped her to expand those abilities, taking her talents to the next level. With experience came proficiency and today she has a growing list of devoted clients who sing her praises. In addition, she's also actively assisted other psychics to open up to their abilities. If you are looking for direct and honest answers get a reading with Mystic Shelley now at PsychicAccess.com