Losing Touch With Our Departed Loved Ones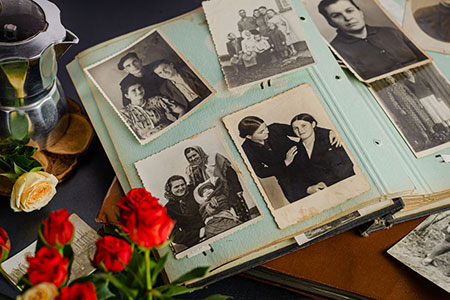 Some people have at least one long-standing friendship from their early childhood years. During your elementary years, the friendship grew to a soft and accepting duality that you easily embraced.
As the time progressed, the 'best buddies' syndrome only became stronger, as you melded into the somewhat trying years of early adolescence and puberty. It created an easy belief that this camaraderie would last for the entire duration of your earthly existence. You believed that you would be in each other's lives forever!
These friendships lend itself to a sense of comfort that helps us deal with the trials and tribulations that young lives normally must endure.
The next thing you know, as you both matured and progressed further in life, your best friend found herself a wonderful life partner, they moved away from your area. But you both vowed to stay in touch and keep the friendship intact, just as it was when you were in your formative years.
At first all was well. You wrote, emailed, texted, phoned, sent the birthday and holiday gifts. You did whatever had to be done to keep those lines of communication open. If all went well, you both did your fair share.
In time, the calls became less frequent, the disconnect between you began to widen, as life took on a unique format for each of you. It is not that you feel less love and affection for each other, it is only that life has a way of moving forward into new and challenging directions. You will always be dear and cherished friends to each other, you will always care about the needs and concerns in each other's lives, but life moves on.
This narrative is no different if your adored friend and confidant has since left this earthy existence and moved on the other side. We can have clear and constant communication from a loved one that has passed on. Their spirit still has great attachment to those they left behind.
We never truly get over a loss, but we can move forward and evolve from it ~ Elizabeth Berrien
But similar to losing touch with an earthly friend, time also takes its toll in the separation of the earthly and spirit realms. In time, our departed loved ones become more and more involved in their new existence and eventually have no choice but to move on with their new life. Yet, the love, care, concern endures and the knowledge that we will be reunited carries the same emotional impact.
Take the initial communication from your loved one that has left this existence and appreciate it for all it's worth. It will more than likely start to wane over time, but that again is a normal process that must unfold.
The everlasting bond of love will never be completely severed. The departed loved ones you hold dear will be there to embrace you in the next life.

About The Author: Kitty

Kitty is a Canadian Intuitive, born into a large family of clairvoyants and clairaudients. A local celebrity, she's been giving accurate predictions in her paper for over fifteen years now, and is often called upon to lead séances and provide readings at Psychic Fairs in Vancouver. A trained counselor, she combines her natural Gifts to detect blockages at their root, and provide detailed psychic information and practical advice for success and happiness. She's helped locate missing items and people, has communicated messages from loved ones who've passed on, and communicates with two Sacred Celestial Beings who are unerring in the startling information they provide. If you'd like to connect with this remarkable Intuitive, whose talent spans generations, you can find Kitty at PsychicAccess.com.


This site uses Akismet to reduce spam. Learn how your comment data is processed.