What Is Blocking Your Progress?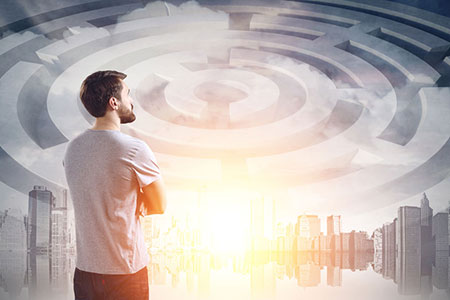 Picture yourself driving down a nice country road. There is no traffic to speak of, the sun is shining beautifully in the cloudless sky, and all is right with the world. You have no particular timeline or agenda in mind, this is a rare moment of bliss which you totally intend to take advantage of.
But, as you come around the next bend in the road, there, out of the blue, appears to be an exceptionally large branch completely blocking the way. What to do now? Well, you have always thought of yourself as a somewhat smart and resourceful soul, so there is no doubt in your mind that you will arrive at a logical and workable conclusion.
After careful examination, you begin to realize this is a little more serious than what you had initially thought, so now alternate plans must be put in place. Out comes the trusted cell phone, to call the nearest towing company. Perhaps they will be able to haul the branch out of the way!
Oh no, you are in a cellular dead zone and there is no signal, so the calling option is out. What next? Well, with a little pushing and prodding, maybe you could clear the path yourself? After an exhausting attempt you quickly realize this is not going to work either. Time out is called for, so you may rally all your brilliant thoughts to reach a viable and successful conclusion.
Then you have an inspired idea. If all else fails, maybe you can navigate around the branch just enough to get free and clear, and continue on your merry way? You try and…well, lo and behold, that worked amazingly well!
Releasing emotional blocks is essential to clearing stagnant energy and living life to its fullest potential. Without healing, personal and spiritual growth only go so far ~ Wendy De Rosa
The same scenario holds true for all the twists, turns and energy blocks that is repeatedly placed in our path as we go through life. They are empowering life lessons and emotional challenges presented to us in order that we may learn to utilize all the talents and gifts at our disposal. It is certainly acceptable to get some assistance from others, however it always seems to work better when we are able to call on our very own resources to deal with whatever is blocking our progress.
External blocks on our life path are, of course, much easier to identify, but they are one and the same as the inner mental and emotional blocks. When things appear to be not materializing or going in the desired direction, your first question should always be: is there a block? Sometimes we are fortunate enough to recognize the blocks immediately. If not, take your time, metaphorically drive down your country road, picture the huge fallen branch blocking your path, and simply trust yourself completely that you will be able to identify and remove your block.

About The Author: Kitty

Kitty is a Canadian Intuitive, born into a large family of clairvoyants and clairaudients. A local celebrity, she's been giving accurate predictions in her paper for over fifteen years now, and is often called upon to lead séances and provide readings at Psychic Fairs in Vancouver. A trained counselor, she combines her natural Gifts to detect blockages at their root, and provide detailed psychic information and practical advice for success and happiness. She's helped locate missing items and people, has communicated messages from loved ones who've passed on, and communicates with two Sacred Celestial Beings who are unerring in the startling information they provide. If you'd like to connect with this remarkable Intuitive, whose talent spans generations, you can find Kitty at PsychicAccess.com.