A Unique Time For Human Connection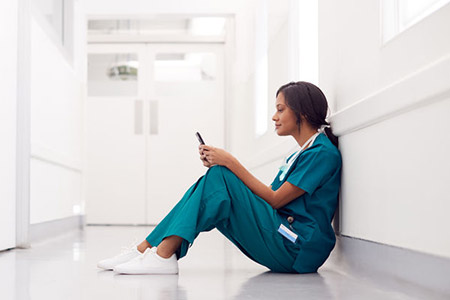 This is a unique opportunity in human history. We have more time now to expand our awareness and understanding, and to take the guidance from the sages of the ages to find peace in a tumultuous situation. One of the most unique aspects of the current situation is related to human connection.
At a time when we are being asked to practice social distancing, we also have a unique opportunity to be connected through social media and video conferencing. I am amazed at the opportunity that the miracle of technology has given us. Many of these technologies were not available 20 years ago.
Recently, I have been seeing stories about the kindness and compassion people are showing during this time. All the communication technology we have at our disposal enables us to connect with one another at a deeper level.
I would also recommend not focusing too much of your mental and emotional attention only on yourself at this time. The current situation is not just about you, and when we focus too much energy on what we are going to do or how this will affect us on a personal level, it only increases our sense of anxiety about the unknown.
If you are currently finding yourself with more free time, also do not just use this as an opportunity to only binge on television or movies. I am not saying that there is anything wrong with watching television or movies, but this is also an opportunity to expand your interpersonal connections in a unique way. This is a time where we can extend our energies on compassion and kindness toward our fellow humans.
Great opportunities to help others seldom come, but small ones surround us every day ~ Sally Koch
Reach out to the people in your lives. I would recommend that you connect with any medical workers that you know, and ask them if there is something you can do to help. If you know nurses or doctors that may be overwhelmed as a result of the Covid-19 pandemic, make an effort to create a social support system for them.
I also recommend reaching out to our elderly population in supportive ways. It can be a phone conversation to help ease their stress, or you could grocery shop for them and leave the groceries at their front door. These things can be done while still maintaining the current social distancing guidelines. Do not underestimate the value of a listening ear, or a compassionate word.
Yes, this is a time of extreme physical disconnection, but this can also be a time where we come together in a meaningful way for one another. This new virus has taught us just how interconnected the human family really is, and it is also a stark reminder of how connected we are to the animal kingdom and the environment. We are increasingly seeing reports about polluted skies and waters becoming clear again and we are recognizing our impact on nature. We are nature. We are the environment. It's not that we just affect the environment, we are intrinsically connected to everything in this world.
Please do use this as an opportunity to express compassion to your fellow brothers and sisters on the planet. Ask if they are in need, and if you are in need, ask for help. Just because many of us are physically isolated now, does not mean that we must be emotionally and socially isolated too.
Also remember that various spiritual traditions teach us us, "Give and it is given unto you." As my teacher and spiritual mother always said, "If you do not know what to do, love." Love is both the healing force and the creative impulse. As it is said in the religion of my youth, "God is love."
Unless someone like you cares a whole awful lot, nothing is going to get better. It's not ~ Dr. Seuss
If you would like to join me, this is my affirmative prayer for these times:
I expand my consciousness and awareness to include the many people in my life. I allow the love from my own heart to wash through me, cleansing my mind of all fear. I extend this love outward to those around me. 
I allow the God-light within me to shine to all those in need and I ask the holy spirit, "What would you have me say, what would you have me do, and to whom." I give myself moments of time to listen to my inner wisdom and guidance. 
I know that whatever I give out comes back to me multiplied.  So, I choose to give love, compassion, comfort, and understanding. I honor my ability to help others in need. 
Instead of focusing all my attention on the many problems, I choose to seek out opportunities where I can be a solution. I can be a solution. I trust the Process of Life to bring me my highest good and I extend this good to everyone around me. 
All is well and I am safe. And so it is.
Amen.

About The Author: Cosmic Coach

Cosmic Coach (James) is a Christian Minister, a teacher and an Energy Guide. He has been seeing and talking with Angels and Guides since he was 7. As a teen, it dawned on him the unique connection he had. He prayed for others at his family's Christian church, and received direct messages and healing energy from Spirit. As a young adult, he became ordained and is still attached to the Christian Church today. After mentoring with a remarkable psychic woman, he developed his own tools and began his full-time psychic practice. James has mastered many techniques in his psychic practice to connect with the unique heart center of each of his clients. He is a Reiki Master of many traditions, who is adept at crystal healing, card readings, and delivering detailed messages from Angels and Guides. James is always expanding the base of his knowledge to broaden his reach and serve as many clients as possible. To experience a unique reading personally designed for you, you can find Cosmic Coach at PsychicAccess.com.