Overcoming The Trials Of Spiritual Transformation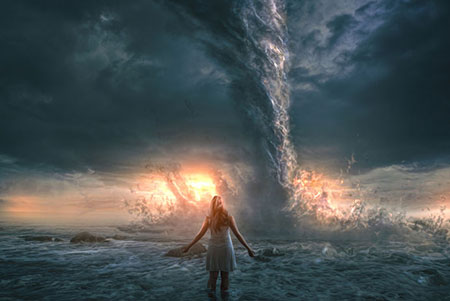 Major setbacks and challenges in our lives can lead to a 'crisis in faith.' However, as much as they may seem like unjust setbacks, they're actually about transcending major hurdles for the purpose of spiritual growth. In truth, these moments of adversity are evidence of an impending, giant step forward within our emerging consciousness. Cherish them.
For those of us who guide others coming into their spiritual power, it is important to understand the significance of these signs, so as to not misinterpret them. That said, it's not easy for those undergoing these symptoms, which can include feelings of being in limbo, doubtful and depressed, often creating rifts with family and friends. All of these signposts are marking the path for spiritual transformation in the now. For example, if you catch yourself having moments of letting go consciously of self-limiting negativities, that is letting you know that you're right on track. Honor them.
It's not unusual for an emerging lightworker to suddenly let go of family and friends whom they no longer resonate with, or to undergo a career change which formerly would have been inconceivable. One becomes less concerned with matters of everyday security, often feeling that the cultural values we have been taught are nothing but an illusion. Or, some may feel they are in mourning, as though something or someone has died – which is a actually an apt description. Indeed, it's a death of priorities and loss of all meaningless ties. As a result, it's not a loss at all. Rather, it's marking the path of self-sufficiency.
For me, it often goes something like this: "Hmmm, I'm feeling a bit restless. Is there something I should be pursuing? Is there a calling I'm missing?"  The answer usually comes as I wait on more information with intention. I call it WOO: Waiting On Orders. Although the 'orders' may not come immediately, sooner or later, I am back on my path in the direction indicated by the objectives my higher good is setting out for my next challenge in the spiritual growth process. Be aware of them.
It's very easy for you to be wholesome and virtuous and spiritual when things are going right. But as soon as a little bit of adversity arises, then the real test begins ~ Gyatrul Rinpoche
As a result, the process sometimes seems immediate, although it may have been brewing for a long time. Other times, one may feel stagnant and even impatient. Each of us is on our own unique journey, in which foremost objectives must happen in order to move on. Have patience.
When there have been significant setbacks, there may suddenly be an acceleration of events as the process comes together all at once. Nothing is ever wasted – not even waiting – in these kinds of scenarios. Sometimes these drastic events have been processing all the time, just ready to propel one into the vast whirlwind of transformation, and you may find yourself questioning your own sanity. Your salvation is the knowingness that turns your focus within where all answers lie. Feel gratitude.
Spending quiet times, especially in nature, are key steps in speeding up the process, if you feel stifled for a time. Volunteering to serve in the Light to the best of your ability is often accompanied by a 'crisis in faith,' indeed. Without the crisis we might not heed our higher self's aim for our greatest good.
Taking giant leaps in consciousness is not easy, nor is it painless. But not only is it more than worth it, but it is undeniably pushy, leaving one with little choice. Indeed, one's resourcefulness is being tested. And, remember it is a mark of wisdom to wait for more information when you're feeling unsure. Let the tethers go.

About The Author: Mountain Sage

Mountain Sage's profession is Metaphysical Academics. Her extensive training includes Oracle, Healing, Universal Laws & Principles, the Sacred Circle and Psychic Shielding. Focus includes Ascended Masters, Altars, Minerals, etc. She holds the great honor of Oracle Carrier by her tribe due to her outstanding psychic ability, passion for the psychic realm, integrity and sacred work. Get a psychic reading with Mountain Sage at PsychicAccess.com.