The Phenomenon Of Out-Of-Body Experiences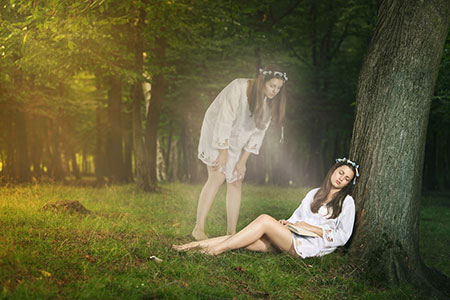 An out-of-body experience (OBE) is a phenomenon that can happen after surgery, when we experience severe trauma, during meditation, astral travel, and so on. They are also associated with near-death-experiences (NDE). It is usually characterized by a feeling of leaving your physical body, or observing yourself from outside your body. I have experienced this phenomenon several times in my life.
Reports of OBEs vary from person to person, but they often involve the sense of floating above one's body, or looking down on yourself. You may also see a bright light during an OBE, and sometimes colors and a warm, pleasant sensation. Some people see deceased family members.
In my experience an out-of-body experience is a unique opportunity to step outside of our physical existence into the spiritual realm. Sometimes we experience this because our soul needs to 'restart.' So, when you are in a state of meditation, or when you are feeling relaxed, or sedated after surgery, this may happen to realign the body and soul.
Part of the soul's purpose is to keep the vessel (our body) alive. Our soul is connected to a silver cord, much like an umbilical cord, which keeps things intact, so that we can always come back to our body after an OBE.
Many people love their first OBE and want to try it again as soon as possible. For some people, this sets them on a path of exploring astral travel during meditation or dreaming as a way to learn more about the universe in which they live ~ Karen Frazier
Sometimes you may not remember having an OBE, and you may feel a bit odd, but most of the time you will remember. You usually know you are having an OBE when it feels like it is really happening to you and you are aware that you are no longer in your physical body.
Some people will panic when they experience this for the first time, because they are not understanding what is happening. Know that nothing negative is going to happen or 'jump into' your body, because you always have your angels and guides with you, as well as family members watching over you. Nothing can harm your soul.
Having an OBE is a positive spiritual experience. It shows you something greater than yourself, which gives you a different perspective on life.

About The Author: Andrea Grace

A Psychic, Medium and Paranormal Investigator living in New Jersey, Andrea has been a top featured internet psychic for many years. After a near-death experience in which she traveled to the other side, she returned to fulfill her calling to help others with her new amped up skills! Her ability to help clients recall their past lives has helped many to understand where they're headed in the future. With the help of her Spirit Guides and Angels, she gives clarity on any issue, always respecting her clients, while telling it like it is. If you'd like an accurate reading with a caring, kind, and accurate Psychic and Medium, you can find Andrea at PsychicAccess.com.