Honor Your Most Magnificent Self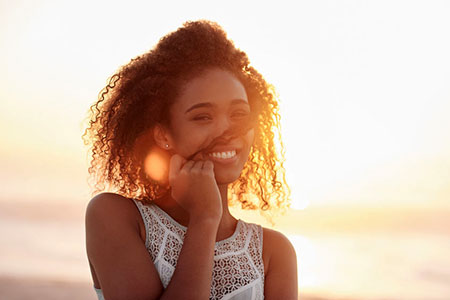 Taking time to experience the wonder of the final days of summer truly is medicine for the soul. My favorite summer activities include dipping my toes in a nearby lake or ocean, feeling the healing energy of the natural quartz sand against my skin, and finding renewal in the essence of the season.
Too often we move through our days and weeks completely engulfed in work, and the chatter of the bustling world. Our lives tend to be caught up in the motion of the world, with little time for self-care and centering.
Many of us awake in the mornings to the national news that often leaves us drained even before our day begins. We shower, have breakfast, down a cup of coffee, and anxiously show up for our families and our careers.
Many hours later, we return to our homes, where we are met with even more news via network and cable outlets, competing with their own spin on identical breaking stories. We reach for our smart phones or laptops and headlines scroll across our screens. When is enough truly enough?
In light of the endless social and environmental concerns permeating our planet, our species is globally experiencing stress like never before. But surely the Divine Presence within our amazing Universe would not leave us stranded on Planet Earth without the tools to transcend stress and what seems like utter chaos.
And so with the sunshine and the great bursts of leaves growing on the trees, just as things grow in fast movies, I had that familiar conviction that life was beginning over again with the summer ~ F.Scott Fitzgerald
One by one, each of us has the innate ability to find our center, cultivate stillness, and dissolve the stress of the world. Collectively, we have the tools to transform our entire world by utilizing the metaphysical gifts bestowed on us by Spirit.
A teacher recently shared that if you find your center all else in your life will fall into perfect order. As summer embraces us with warmth, light, love, and the opportunity for self and collective renewal, I challenge you to find your center through whatever vehicle is right for you. Be not afraid to think outside of the box, as there is no single way to get to your center.
One of my dearest friends finds his inner balance when out on the dance floor, with the latest beats booming. Another is a huge fan of global music and finds her personal power through the sounds of her car stereo, while driving solo through Los Angeles with the urban cacophony as her backdrop. My personal best is a walk alone in a fragrant pine forest, where I am amazed by plant intelligence and the natural order of how trees grow so freely.
Allow your spirit to guide you to that which is best for you and, most of all, comfortable.
When was the last time you spent a quiet moment just doing nothing – just sitting and looking at the sea, or watching the wind blowing the tree limbs, or waves rippling on a pond, a flickering candle or children playing in the park? ~ Ralph Marston
Take back your personal power this season by choosing spiritual order over disorder. By starting your mornings with deep breathing and stillness, even in small increments, you will begin to enjoy a spiritual shift in your life. Tuning out from repetitive headlines, in favor of tuning in to Self and Spirit, will bring you tranquility, peace, healing, balance, comfort, and joy. Trust that taking small steps towards your inner temple will manifest in huge rewards over time.
Remember, your center is your most powerful space to live your life from. It is both grounded and fluid. It is the home of the in-dwelling highest presence in the Universe, which connects you to your highest good. It is the temple of the soul and the sacred, and only you are the keeper of the key.
Honor your most magnificent self today by returning to the sacred space from which you have come, and go forth to live your best life ever.

About The Author: Shawna

Shawna lives in the American Southwest and is a third generation Spiritualist and Clairvoyant. She recognized her own gifts at a young age, fully embracing her calling as a Clairvoyant, Medium, Spiritual Astrologer, Tarot Reader, Aura Reader, Water Reader, and Healer, training under the tutelage of some truly gifted mentors. Shawna utilizes her natural psychic gifts to help individuals navigate through personal challenges and discover the higher manifestations of their life paths. She's provided positive, spiritually responsible, and ethical readings in-person, over the phone, and online, and has read for clients in Los Angeles--at psychic fairs--and at the Crystal Gaze Spiritual Center, in Lakeland, FL. She is also a trained practitioner in Clinical Herbalism (University of New Mexico), Ayurveda Medicine (San Diego College of Ayurveda), and Reiki. Shawna has channeled messages for political leaders, celebrities, and has accurately predicted the outcome of national campaigns, as well as a big career opportunity for a talented actor that resulted in a Tony Award! If you'd like an enlightening and empowering, full-spectrum of guidance, you can find Shawna at PsychicAccess.com.