Learning To Love Yourself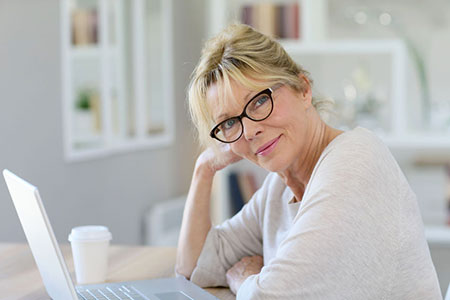 Sadly, my inner-critic began speaking to me at a relatively young age and continued to do so well into my 20s and beyond.  Personally, I feel this played a large part in me losing my job at the age of 24, during the 1980s recession. It was a time in which work was so hard to find, and when I finally did, even more negative self-talk began to have an effect on my life.
With no job and no money, I felt worthless, stupid, disliked, and that I had no potential whatsoever. Most fortunately, however, I proved myself to be wrong and later found, from experience, that the way to a happier, more confident and fulfilled life was by learning to slay that inner critic and start loving myself. Furthermore, you can too! Here's how.
Firstly, remember that you do have a choice. Which one will you listen to: your inner critic or your inner guide? I remember the time when I told my family I was going to start working in the spiritual field. Yes, they laughed and said to me that it would never work out for me, and I that I could not do it.
Sadly, this boosted my inner critic once again, but at this particular time in my life, circumstances and the need for a more fulfilling job made me look at things from a different perspective.
Therefore, rather than listen to any negative self-talk, fueled by well-meaning people, I learned to listen to my inner guide instead! All I can say is the positive knock-on effect of doing so has made my life so much more rewarding, and there is no reason it could not do the same for you too.
Find the love you seek, by first finding the love within yourself. Learn to rest in that place within you that is your true home ~ Sri Ravi Shankar
Secondly, it is important to learn to celebrate your small wins. As I reflected on past challenges, like losing my job, for example, I came to realize that it was not necessarily the experience itself that made me feel the way that I did, but my actual reaction to it! Furthermore, I began to see that learning to deal with my response should not be all that difficult and was something I could do anywhere and at any time.
Therefore, rather than tell myself that I was completely useless and would never find another job, I told myself instead that I was going to strengthen as a result of the challenge of unemployment and find both gainful and rewarding work in the foreseeable future – which I did!
Yes, it can seem a little strange when first starting to listen to your positive inner voice, particularly when the negative one has been in control for quite some time. Nevertheless, this small change can make one mighty difference to the quality of your life.
In all earnest, if you can learn to celebrate yourself a bit more often, you will not go wrong. However, that said, there are a host of misconceptions with regards to self-love and celebration. For example, you may have been told that by doing so, you are "too full of yourself," or that "nobody will ever like you if you show off."
Furthermore, you may have also been informed that you ought to earn your celebrations via significant life events. However, I would really beg to differ, as all you really need to do is honor your small wins and note them with gratitude and appreciation.
I love myself for I am a beloved child of the universe and the universe lovingly takes care of me now ~ Louise Hay
Next, it is useful to acknowledge you're always a 'work in progress.' Keep reminding yourself that no matter what is happening in your life at the moment, you are still striving to do your best and cannot be expected to master and complete everything straight away. Self-acceptance is key. Accept yourself for who you are, right here, right now and make no apologies for doing so.
Also, recognize your true worth. Knowing your own value is imperative, as is saying no when you have to, requesting help when you need it, and never, ever, saving anything for 'when it is best,' as you really do deserve it now.
Prioritize self-compassion. Never place criticism above self-compassion. Truly, practicing the art of self-kindness is one of the best things you could do for yourself. Find your voice and make sure it is a loving one!
While self-care and self-love are indeed important, what they actually look like for you may well be different than what they look like for somebody else. Indeed, everyone's version of what self-celebration actually is, differs and will continue to do so. However, you will find that there are occasions when you feel absolutely unstoppable, and other days when you feel that the very act of getting up is really hard to do. Nevertheless, you can always find that positive voice in any given situation.
Therefore, rather than asking yourself what went wrong, turn it around to 'what worked out right?' By adopting this approach, it should prevent you from allowing any negative self-talk to begin and thus keep that inner critic at bay! Ask yourself, then, what are your small wins? Personally, it is to make the bed and to put the washing on before starting work!
Self respect, self worth and self love, all start with self. Stop looking outside of yourself for your value ~ Rob Liano
If you are a working parent, like myself, or just a very busy person, you may find that you don't have the time to take yourself on frequent holidays or well-being retreats. Therefore, regular self-love is incredibly essential, and the good news is you can do this no matter what kind of a day you are having.  Indeed, you can self-love anywhere, be that on the tube to work, watching your favorite TV program, or having a meal out with friends. While it is right to say that life just gets busier if you try, you will find time to self-love regularly and the benefits this brings you should really help enrich your life.
Since practicing the art of self-celebration, I know I have become a calmer, happier and more mindful person with a heightened sense of self-control. We can never really love ourselves too much, and it is only by loving ourselves first that we can help other people to do the same. How good is that?

About The Author: Lucinda

Lucinda is a highly trained Intuitive and Empath, living in a beautiful village in North Yorkshire, England. She possesses the rare gift of understanding a client's personal pain and has been through many challenges, herself, which has only made her stronger! It is both her calling and her happiness to help those in need. And whenever she needs a little help herself, her Guides are always there to assist in her development and provide clear interpretations for her clients. Prediction has always been a great tool she could count on to accurately foretell events, but Lucinda also draws on her expertise with Dream Interpretation, Numerology, Angel Cards, Law of Attraction and Life Coaching to provide full and detailed solutions to any problem. A member of AMORC and Beyond Freedom Evolution, she provides inspiration, education and personal support for spiritual development. If you'd like answers or want to attract your desires, you can find Lucinda at PsychicAccess.com.