Humor – A Message From My Guides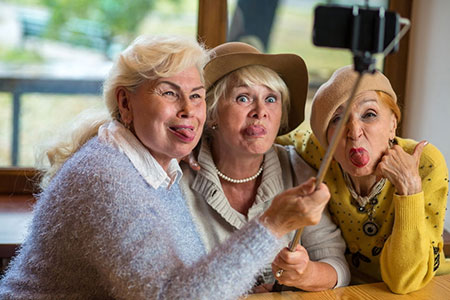 We encourage everyone to remember the expression, "Laughter is the best medicine."
Gossip and rumors abound. People overreact to perceived slights and unintended insults. Hair-trigger tempers flare and social media platforms expose issues for all to see. Friends interject their opinions without all the facts. Disagreements become exacerbated in the resulting spotlight. Politics can be polarizing. Stress levels are through the roof. Road rage is no longer an isolated incident. You can feel surrounded by potential conversational landmines.
At times like this, it is important to step back, take a breath and take a break. Come back to the issue with fresh eyes and determine whether it is truly worthy of consideration and comment, or whether it is a tempest in a teapot that will pass on its own. If necessary, deal with the issue using logic and forethought, rather than high emotion.
In times of stress, seeing the lighthearted side of anything can seem difficult, if not altogether impossible. However, there are some ways that you can soften the impact.
If you can come to terms with the idea of worrying only about those things you can really control and take the necessary action to control them, it will make it much easier to compartmentalize and to choose where to focus your thoughts and resources.
May laughter fill your home, relieve your stress, and strengthen your friendships. Do not let a day go buy without laughing; it is good for your health ~ Catherine Pulsifer
Once each issue has been decided and solved to whatever degree possible, take the time to create an atmosphere of lightheartedness for yourself. In other words, give yourself a break to dissipate the tension.
Whether you go out with friends, watch a comedy on TV, see a movie or just revel in being alone for a while, make the time to surround yourself with a little humor. See the funny side wherever possible. Acknowledge that most issues are non-events, misunderstandings or perceptions that can be seen from several different perspectives. Find the humor, even it is only in your own overblown reaction.
Looking back, many high-emotion interactions can seem exaggerated. Often, in hindsight, you can see another way that things could have been handled. Instead of castigating yourself, find some humor and learn for the next time.
Every life could use a little more lightness and a little less judgment. A smile can make your day. Grinning inwardly at a fond memory can elevate your spirit. Even in your darkest moments, it is possible to find a little light.
Wherever possible, keep company with people who have a generally positive demeanor. Everyone has a path to follow, however, you do not need to be dragged down a negative path if you choose to rise above. Limit your exposure around those who bring you down. Counteract their negativity by finding another source of enlightenment.
While humor does come naturally to some (but in my family, we don't make nose jokes), everyone can learn the joy of making other people giggle. What a gift to the world! ~ Mary J. Schirmer
Do not take yourself too seriously. Everyone makes mistakes. Learn from the ones that have been painful. Laugh at the ones that seem silly now, with the benefit of age and wisdom.
Start each day with a renewed intent to see the bright side wherever possible. When you are cheerful, your attitude can be contagious. Help others smile as you help yourself to ease the tension. Above all, avoid living in the past. Learn to let it go.

About The Author: Monica

"What you think about, you bring about; what you believe, you become." This is Monica's philosophy, derived from her twenty-five years of experience as a Clairvoyant, Light Worker and Medium, living in Ontario, Canada. Monica has been a guest speaker at various Spiritualist churches, conveying Spirit greetings and messages from loved ones during Sunday services, All Mediums Nights, Healing Services, Meditation Services and special fundraising events. She's been an advisor to several international business leaders and connects with all of her clients on a level of love light and empathy. She delivers messages containing ideal outcomes and positive solutions with the help of her guides. If you'd like Monica to help shape your destiny, you can find her at PsychicAccess.com.