Shamanic Shape Shifting Of Departed Loved Ones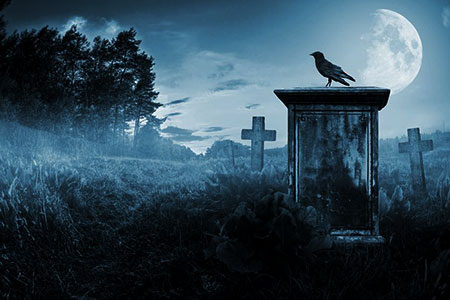 Crows do not symbolize doom and gloom as portrayed in some myths and movies. They are a symbol of magic, intelligence, keen communication, and much more. They can see far into the spirit realm and bring messages for those who are open to receiving them. So, if a crow appears to you, use your intuition to truly receive the messages it brings.
Crows often carry the energy of a loved one that has passed, and honor you with the loved one's presence and sometimes also gifts. It's called transference. It is a sacred shift of energy. If you have a crow making herself known immediately after a beloved's passing, rest assured it is, in fact, the presence of your lost love. Respect this transformation with gratitude.
Generally, transference occurs between physical vessels that are similar, making the transference easier for the passed loved one to make the shift. There are exceptions, however, and crow is one of the most common physical vessels used – in great part due to their innate intelligence and ability to soar between dimensions.
It's all about love in the final analysis. Your loved one left you because there were no other options, due to circumstances of life. Although, too often, they hang on, even while suffering, waiting for a vessel to transfer into. In fact, some won't leave, regardless, until they have the vessel they need, whether it meets their preferred specifications, or not. They prefer to see or meet the new vessel before they pass, so they know how to best make the shift.
People once believed that when someone dies, a crow carries their soul to the land of the dead. But sometimes, something so bad happens that a terrible sadness is carried with it and the soul can't rest. Then sometimes, just sometimes, the crow can bring that soul back to put the wrong things right ~ James O'Barr
Age, ill health, and accidents, along with all the other factors that cause the shift in dimensions from the physical vessel to the vapor veil, where the body, as we know it, is no longer needed, is often crossed reluctantly. So, they come back any way they can, because they love you so much that even their passing will not darken their light for you. They are still guarding and protecting you, the same as always, and often come back to you again and again. Each physical vessel goes back to ashes, like the Phoenix, to rise again – in this case to love you again and again.
So, the moral of this story is to pay attention after the passing of a loved one. It is very comforting to feel and watch the shape-shifter that comes along, sooner or later, with many of the same ways, gestures and very often, a similar physical appearance as the love you thought was gone. Indeed, they are with you still, and it is as comforting for them as it is for you.
Honor them with your deepest respect. It's not an easy journey for them, but they do it out of love for you. It is perhaps, the deepest love you will ever know.

About The Author: Mountain Sage

Mountain Sage's profession is Metaphysical Academics. Her extensive training includes Oracle, Healing, Universal Laws & Principles, the Sacred Circle and Psychic Shielding. Focus includes Ascended Masters, Altars, Minerals, etc. She holds the great honor of Oracle Carrier by her tribe due to her outstanding psychic ability, passion for the psychic realm, integrity and sacred work. Get a psychic reading with Mountain Sage at PsychicAccess.com.


This site uses Akismet to reduce spam. Learn how your comment data is processed.