A Life-Changing Ripple Effect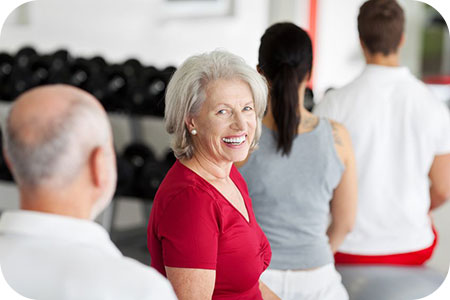 After a visit to the doctor a friend of mine was told she needed to be more active. Her job requires her to travel, so not a lot time to work out. Her office job also doesn't offer a lot of opportunity for her to move around and get that much needed muscle activity going in her body.
After a reading with me she said she was motivated to change her lifestyle and do something she hadn't even thought of before, but loved the idea of it so much she decided to "take action." Pun intended.
Her plan was to start a group exercise class that incorporated Yoga and some light callisthenic exercises using a chair, for those who couldn't stand long. Her aim was to make it appropriate for all age brackets and all levels of fitness, so that anyone could participate. The key was to move!
She began to conduct this exercise class at the church she attends, where she was allowed to use the large gym they have on the premises. Within two months she and her class members were no longer slouching, and they felt stronger and healthier.
However, she said that she also noticed something else… and wanted to know if I could help her with something that didn't involve exercise, but energy on a different level. Apparently, she was noticing auras around some of the people taking her class. Some had darker auras, while some had lighter, brighter ones, and she could feel their energy. For example, one lady, who she noticed a darker energy around, just broke down in tears after class and shared that she was getting a divorce.
Sometimes it's the smallest decisions that can change your life forever ~ Keri Russell
I reminded her that she was and has always been empathic, as I had shared with her before, and that she has an ability to see things that others cannot.
After asking my advice on what she should do, I suggested a few things. I suggested she continue to pray at the beginning of class, as she usually does, but to also offer up a healing meditation that the women can take with them. I told her I would prepare it for her and she could hand them out before her class begins. She is now using this meditation and her class loves it!
Also, I encouraged her to think about studying the art of energy healing known as Reiki. She is looking into that and I'm so glad, because she is a born healer and a wonderful person who can offer so much to others. She always felt she was in the wrong profession and that sitting behind a desk in a cubical for many hours a day, and then coming home to sit even more, was not the life she really wanted.
Your life changes the moment you make a new, congruent, and committed decision ~ Tony Robbins
Within a year, she has since gone from being (in her words) "an office job couch potato in constant pain… to a Yoga teacher and almost certified Reiki healer." She now loves her life. She has lost a lot of weight, and she has gone from being constantly negative and depressed to positive and uplifted.
A wonderful ripple effect took place since the day my friend decided to get her body moving. Everyday is a wonderful opportunity to start such a possible ripple effect. It not only helps you, but often also helps others. That is what it is about I believe – we are all connected and it's about loving and helping each other grow on all levels.

About The Author: Moon Goddess

Moon Goddess is a third generation empathic healer and seer. She started to give healing readings to people more than 20 years ago. She has always been interested and studied all things metaphysical from a young age. Being hypersensitive she can feel and see things before they happen. Utilizing the Tarot, and with the help of her Guides, she is a source of support for many people all over the world. After he passed over, her grandfather kept his promise and came back to say goodbye and gave her the most amazing experience. Moon knows there truly is a Heaven, and it is wonderful! Sharing her experience has helped many people after they have lost someone, or anyone experiencing some form of grief. Get a reading with Moon Goddess now at PsychicAccess.com.