Healing With Rhodochrosite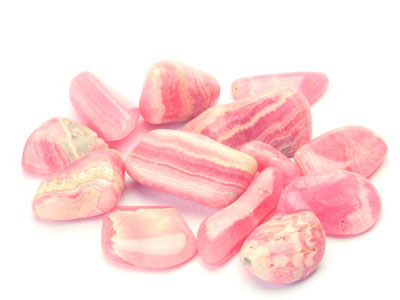 A couple years ago, I experienced a series of setbacks and losses. My energy had reached a low point and I knew it was time to get back on track. A good friend told me about her experience using pink Rhodochrosite stones to alleviate emotional blockages and depression and suggested I try it too.
I took her suggestion and went down to my local esoteric shop the next day to pick out a beautiful stone that I could carry in my pocket throughout the day.
It didn't take long for me to notice the effects of the Rhondochrosite stone energizing my sacral and heart chakras.  A lot of compassion and acceptance replaced the fear and general anxiety. This crystal is often referred to as the "compassionate cheerleader," because it helps dissolve old wounds and to reconnect with your inner child.
Rhodochrosite is a powerful love crystal that's an ally in deep heart-healing, helping to relieve you of emotional baggage and invite in true or soulmate love ~ Krista N. Mitchell 
It is also wonderful for manifesting inner strength to feel passion and allow love again if you have been hurt in the past. On a spiritual level, it can allow you to see the lesson in a situation and accept it instead of trying to change it.
According to CrystalVaults.com, "Wearing, carrying or meditating with Rhodochrosite helps make one buoyant and cheerful, dynamic and active. It is mentally enlivening, stimulating one's creativity, dream states and sense of personal power. It allows for spontaneous expression of feelings, and can enhance passion and sexuality."
Rhondochrosite is a mouthful to say, but easy to find locally or online in its raw form, or as a piece of jewelry.

About The Author: Laura

Attracting people from all walks of life, Laura has always been the type others come to for advice and direction. An initiated shaman, she's helped others to transcend fear and resolve dark aspects to achieve greatness in life and overcome limitations from the past.Spiritually, she's a mixed bag of traditional meets mystical, blending the best parts of Christian, Jewish and Muslim faiths with intuition and magic. She's been referred to as a witch, but considers herself a shaman. She uses her psychic gifts and divination tools to help you see the truth, awaken your spirit and overcome any problem. Contact Laura for a psychic reading at PsychicAccess.com


One Response to Healing With Rhodochrosite