Children Are Messengers Of Light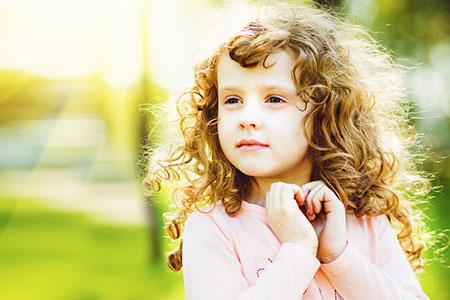 We have all been witness to a child's laughter. There is just nothing else like it. Such complete innocence, joy and bliss! It must be the most wonderful thing one can hear.
A child's laughter evokes a feeling of pure and complete connection with the Light. Why is that? I believe it is because children are so connected to God. It even says so in the Bible. Jesus said, "Let the little children come to me, and do not hinder them, for the kingdom of heaven belongs to such as these."
Children are so free of ego and they can have authentic conversations, while so many adults have to struggle with being true to themselves. We struggle with letting our own light shine, but children are full of truth, kindness and mean no harm. The children of our world are messengers of love and light.
Sadly, we as adults sometimes get short with kids, because we feel what we are doing is so much more important than their simple pursuits. Instead we should maybe let go of the mouse, get off the computer and play with our kids. Try it and see how their love light shine so brightly, because of the attention and time you devote to them.
When I do readings for people and they are struggling in relationships and with self-esteem. I often ask them whether their mother and father talked to them. Did they read to them? Play with them? Many times our adult struggles go back to not being given that soothing touch at a young age or being ignored as a child.
So parents, let's change the world one child at a time and give back for all the love, joy and hope that they bring us. It's so simple. Just spend time with your child.
I used to baby sit for a child whose parents were so busy working all the time. Sadly, he would go from daycare to babysitter on rotation. I could see in his eyes the lack of love, but he would always greet me with a smile and a picture that I could tell he had worked diligently on. I would drop to my knees and hug him, and I could just feel him soaking it in like a plant that hadn't been watered in a long, long time.
A child is a beam of sunlight from the Infinite and Eternal, with possibilities of virtue and vice, but as yet unstained ~ Lyman Abbott
Children to me are examples of God's love. We can withhold the love, but they always love us back. Also, never forget that children grow up fast, and what we put into them today they will always give back later.
Let's give our children love and lots of time, so that when they are older they can love themselves and others, and we can have a world so much more full of light, love, peace and happiness. We really do need to nourish our kids with positive, loving kindness. It is an investment in our future.

About The Author: Moon Goddess

Moon Goddess is a third generation empathic healer and seer. She started to give healing readings to people more than 20 years ago. She has always been interested and studied all things metaphysical from a young age. Being hypersensitive she can feel and see things before they happen. Utilizing the Tarot, and with the help of her Guides, she is a source of support for many people all over the world. After he passed over, her grandfather kept his promise and came back to say goodbye and gave her the most amazing experience. Moon knows there truly is a Heaven, and it is wonderful! Sharing her experience has helped many people after they have lost someone, or anyone experiencing some form of grief. Get a reading with Moon Goddess now at PsychicAccess.com.


This site uses Akismet to reduce spam. Learn how your comment data is processed.