The Miraculous Roll Of Film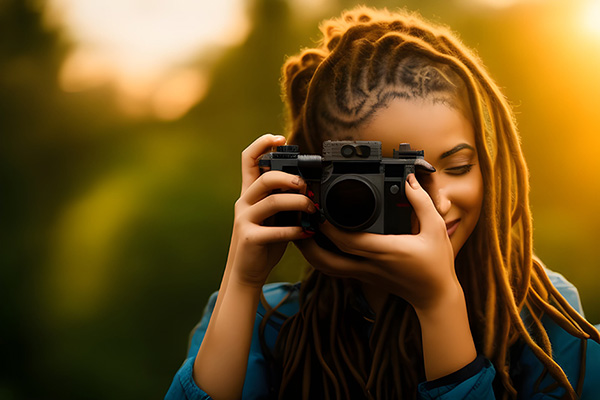 I have experienced many miracles and magical events in my life. As you read the following incredible story, you will see why I have chosen this particular one to best illustrate my experiences.
When I was 18 years old, I was working at a pre-school in my home town. One of the pupils was a three-year-old girl with whom I felt a real connection. She was an old soul; a bright and talented young artist.
But she usually came to school with unwashed, unbrushed hair and dirty clothes. She would never bring a packed lunch. When her parents came to collect her from school, they were often late and, unlike the other children, she did not run into their arms. There was clearly a disconnect between parent and child.
Eventually I moved several hours away and stopped working at the school. But I still thought of her often and prayed that she was well. A few years after I left, I made some enquiries, but no one knew what had happened to her. I hope she survived her difficult childhood and continued to create art, which I believed may have been her saving grace.
Two decades later, I was visiting the area around my hometown to go hiking with friends in a nearby national park. One day, one of my friends climbed a big rock and I followed him. Then he jumped down and I noticed what looked like something he had accidentally left behind.
"Hey, you dropped your roll of film up here," I shouted, holding up the roll I'd found on the rock. But it turned out not to be his film and that someone else must have left it there. Maybe that person had the same idea of climbing the rock to take some pictures of the magnificent view.
Synchronicity is an ever present reality for those who have eyes to see ~ Carl Jung
Normally I would not have bothered, but for some reason I felt intuitively that I should get the film developed. A few months later I did. What I discovered shocked me and moved me to tears! To this day I still sometimes find it hard to believe.
The first photo was of a beautiful young woman in her early 20s lying on the rock we had climbed. She had a peaceful, serene smile on her face, her eyes closed, enjoying the sun. Someone else captured that moment (this was in the era before 'selfies') through the lens of a camera.
Then there were lots of pictures of someone's artwork. Whoever had painted the pictures was clearly talented. The next photo revealed that the artist must be the girl in the first picture. It was a picture of her on what appeared to be her first school day at the Art Institute of Chicago.
Something told me I needed to look at those artworks more closely. Maybe it could help me return the photographs to their rightful owner. Armed with a magnifying glass, I searched for the artist's signature at the bottom of each painting. Most were too small and not clear enough, but then I found a signature I could read.
It was her name! Yes, it was the talented little pre-school pupil from my hometown.
Miracles happen every day. Not just in remote country villages or at holy sites halfway across the globe, but here, in our own lives ~ Deepak Chopra
Through an unfathomable twist of fate, I had miraculously received the answer to my prayers. That abandoned roll of film I had picked up in the middle of nowhere finally answered every question and worry I had had for over 20 years. Now I knew for sure that she was doing fine and still making her art. She had made it out!
I believe that whatever inspired her to climb that rock that day also inspired me and my friend to climb it. And it was certainly no coincidence that she accidentally dropped the roll of film.
In time I tracked her down and returned her photos to her. She did not remember me, but I will never forget her.

About The Author: Satya

Satya lives in Northern California and is a natural Clairvoyant, Empath, Conduit, teacher, author, animal lover, healer, Reiki Master and an advanced yoga instructor. She has provided valuable psychic assistance to Hollywood stars, athletes, and everyone else in-between. A multi-layered Intuitive, with many unique gifts at her disposal, she can give you a doorway into the past as well as a gateway to a happier future. With her long distance energy work, she provides healing for people and animals too! She instantly spots karmic connections from past lives that directly affect current situations, helping clients to move through them quickly. For accurate solutions on just about any pressing problem, you can find Satya at PsychicAccess.com.