Patience Is The Key To Building Bridges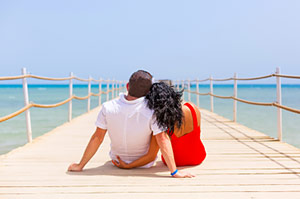 New relationships are not easy. Building that bridge between yourself and another person might get confusing, because of the past. When two people meet for the first time it can be very exciting for them both, and they will most likely have that 'glow' that is so bright around them. You can usually see a change both of them.
But as time goes by, it sometimes happens that one person begins to pull away, or pushes the other person away, because of their fears. They become anxious that what had happened to them in the past, might happen to them today. False hopes and broken promises are part of the baggage most of us carry into new relationships.
To build a good bridge in a new relationship you need trust. This is the key ingredient. If you cannot build trust, then don't bother. This is the problem with new relationships taking off too quickly. Slow down the jets and let things happen slowly. You have your whole lives in front of you. Take your time. Trust is not built in one day.
It feels like spoken words, this bridge. I want it but fear it. God, I want so desperately to reach the other side – just like I want the words. I want my words to build bridges strong enough to walk on. I want them to tower over the world so I can stand up on them and walk to the other side ~ Markus Zusak
In every existing relationship, regardless how long you had been dating, or been married, you still have that bridge. To make a bridge between partners better, we must learn from past mistakes. We must learn to give the other person the chance. Don't be scared to express your feelings on how you seriously feel about the other person.
I often tell my clients I have to call psychics myself, because I cannot read for myself. I have not seen my son in sometime because his mother turned him against me. And it is hard to see these things at times. It is hard to recognize what other psychics tell me, and at times I might not want to hear what they are telling me. Yes, patience is one of my biggest downfalls in life. We need to all understand it might not happen as fast as we would like it for to happen, but let us be patience and trust the guidance of our favorite psychics.

About The Author: Raymond

Growing up on the streets of Columbus Ohio, Raymond learned at a very young age that he was gifted in many ways, including the ability to read someone's eyes and using a regular deck of playing cards to read the future! His mother was from a Native American family, namely the Black Foot tribe, and his father was German. Raymond discovered that both sides of his family had a psychic legacy. Over the years he has gained additional knowledge from books and by talking to trusted family members. Raymond has been doing psychic reading for others for over 3 decades, and over the years he gained many loyal clients from all walks of life. Visit Raymond for a reading at PsychicAccess.com