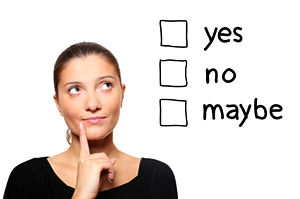 Sometimes, it is wise to move with caution and think things through slowly, so that we truly know what the best decision would be. This is especially true if you are one of those sensitive people who tend to be 'people-pleasers'.
Like the game of chess, it is smart to plan ahead and consider your options carefully. You don't want to make a quick move, without clearly looking at what all the possible outcomes could be. We sometimes tend to make snap decisions to accommodate the needs of others, only to regret it later when we discover that it was a really bad move!
For example, if someone is asking you to do something for them or become involved in their project, and you just don't know if you should commit yourself, you should say to that person: "You know, I'm so busy right now, I need a little time to think about it. I will get back to you on that as soon as I can!"
Never be in a hurry; do everything quietly and in a calm spirit.  Do not lose your inner peace for anything whatsoever, even if your whole world seems upset ~ St Francis de Sales
This way you do not have to walk away feeling you have let someone down, or harbor guilt or regret. You then take the time you need to simply think it through. Have a look at your calendar, make a few calls and decide how you really feel about this request or offer.
I believe this is one of the best pieces of advice I have ever been given – think through what you say and do. Always consider if it is going to have a positive effect on your life and those around you. It goes back to the 'domino effect' I spoke of in a recent blog.
Please heed my advice, because it has worked very well in my life. Really think decision through and move with care. Think before you speak or act. Ask God to really guide you in your decisions. Protect yourself when you are out and about, so that you can have fun and have the best life, by being cautious and using discernment and discretion in all of your decision-making!
PsychicAccess.com.


Moon Goddess is a third generation empathic healer and seer. She started to give healing readings to people more than 20 years ago. She has always been interested and studied all things metaphysical from a young age. Being hypersensitive she can feel and see things before they happen. Utilizing the Tarot, and with the help of her Guides, she is a source of support for many people all over the world. After he passed over, her grandfather kept his promise and came back to say goodbye and gave her the most amazing experience. Moon knows there truly is a Heaven, and it is wonderful! Sharing her experience has helped many people after they have lost someone, or anyone experiencing some form of grief. Get a reading with Moon Goddess now at