This Time I Won!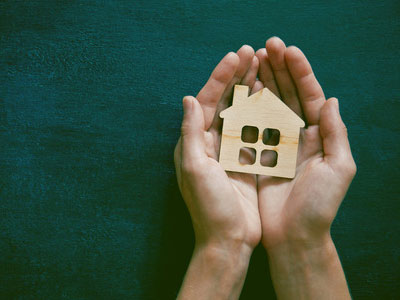 About 15 years ago, I was house hunting for my second home. I found a place in a remote community in the woods. It was my dream home. It was like a fairy house, complete with a creek running through the yard.
It had this amazing rock wall surrounding it that looked like a castle wall. It was very private, with a secluded community of other fairy, woodsy magical house lovers. I just knew it was my house! It felt like destiny. But was it?
Most psychics will tell you that we cannot really read for ourselves and, when we do try, it usually is not very successful. We often get things very wrong for ourselves.
Let me tell you the secret that has led to my goal. My strength lies solely in my tenacity ~ Louis Pasteur
I was approved for the home loan, except for one glitch. The house could not get insurance, since it was in a very high fire risk area. They had not had a fire there for 40 years, so it seemed like the restrictions were excessive.
Sometimes in life, the Universe wants to test you and have you  fight for what you want and I felt this might be one of those times. My real estate agent and I researched every possible solution to the problem. However, the house was truly a cash buyer only house. That was not me. I was devastated.
I wound up finding another house I really loved, that was much bigger and fancier with a nice big yard. So, I resigned myself to the fact that I was wrong about the first house. It was not my house after all.
About a month after moving into my new home, I opened the paper and saw a picture of that castle rock wall and… only that wall. The house I wanted so badly, and sadly many others in that area, had burned down in a massive fire. Not being able to buy that house was not 'bad luck' at the time, neither was I somehow being punished – I was being protected by a higher power.
Recently we were looking for another house. I saw a house with a full farm, complete with chickens and a huge organic vegetable garden. Once again, I just knew this was my house! I told my real estate agent to make a bid. She called me to tell me someone else had already gone into escrow on it. I was devastated.
But then I remembered that old house with the castle wall and released my attachment to the farm house. Although it really felt like my house, it was clearly not. We searched and searched for another house that was comparable, but could not find one.
Don't get discouraged; it is often the last key in the bunch that opens the lock ~ Abraham Lincoln
A month later, that same farm house was back on the market. It was our house after all! We once again made a bid. Our real estate agent then called to let us know that, once again, the owners had accepted another offer.
I meditated and got the message that this was one of those times I needed to fight for what I wanted. So, I made a better offer, even though they had already decided to go with someone else. Fortunately, they had not yet officially accepted the other offer, and they accepted our offer. We moved in on September 20th, 2017. It was our house!
Sometimes you need to release your attachment to the outcome, and sometimes the universe wants you to fight. It is very hard to know which situation you are in when you are actually in the midst of it. I usually decide to fight. This time I won.

About The Author: Satya

Satya lives in Northern California and is a natural Clairvoyant, Empath, Conduit, teacher, author, animal lover, healer, Reiki Master and an advanced yoga instructor. She has provided valuable psychic assistance to Hollywood stars, athletes, and everyone else in-between. A multi-layered Intuitive, with many unique gifts at her disposal, she can give you a doorway into the past as well as a gateway to a happier future. With her long distance energy work, she provides healing for people and animals too! She instantly spots karmic connections from past lives that directly affect current situations, helping clients to move through them quickly. For accurate solutions on just about any pressing problem, you can find Satya at PsychicAccess.com.