A Friend Comes For Help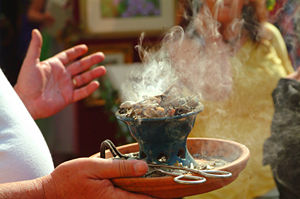 A friend of mine called me on the phone last week and asked if I could come over to her parent's land, which they have owned for some time. When I walked up the old dirt road, I noticed that everyone was standing around talking. Both my friend and her mom had a funny look on her face -like she had seen a ghost.
She told me that her parents decided to build a house on this piece of land that has been in their family for a long time. I ask them did they know much about the land and my friend told me know that her great grandparents gave her grandparents and they gave it to her parents. To me this land reminded me of something haunted you see on TV back in the old days, where you had the old trees, broken fences and stuff like that.
Ghosts seem harder to please than we are; it is as though they haunted for haunting's sake — much as we relive, brood, and smoulder over our pasts ~ Elizabeth Bowen
My friend had told me some time back that her mom had been having dreams about the land. She said her mom and dad was talking about retiring and they would sell their current house and have a new one built here on this land. In the dream her mom was a little girl with pig tails, running, playing and having a good time.
She would dream this dream from time to time and the closer she got to her retirement the dream would come more often. It would also get more intense and more detailed. One part of the dream was about a Native American and the second part was about the American Civil War.
So, I ask her mother to tell me about the dream and I told her I was no expert, but I had dreams that had come true and I have been seeing ghosts almost all my life. I am able to contact the other side and communicate with the spirit world.
I also told my friend's mom that we need to find out about the history of this land. We went to are local library to find out if they had any old newspapers or something to give us a hint or a story why she would have these strange dreams about this land.
Some places speak distinctly.  Certain dank gardens cry aloud for a murder; certain old houses demand to be haunted; certain coasts are set apart for shipwrecks  ~ Robert Louis Stevenson
I remember a couple years ago I was at a street fair and I remember seeing a historical booth of the county we lived in, so we also went there to see if they could help us. I called them ahead of time and gave them the address to the land they owned. When we got there, the lady came right out and told my friend that her parents land had a lot of history to it. It was an area where the settlers and the natives were to fight over the river. The small river goes behind the land and there was a lot of bloodshed over this river. They named it Bloody Run River.
The land also has a civil war connection. There was also a lot of bloodshed there at that time.
I told my friend we might want to get some sage and walk around the land and do a energy clearing, before they start digging the land up. The people who had owned the land before her great grandparents did not want it changed. That is why her mom had been having these disturbing dreams. I told her we had better not take any chances and we would need to burn the sage around each point of where the land starts and ends, to ask forgiveness and apologize for what has happened there and the building that was going to take place there soon. We burned the sage three times – in the morning and in the afternoon and later in the evening.
They don't start digging until the middle of April. I hope our cleansing brings peace to the family before the building.
About The Author: Raymond

Growing up on the streets of Columbus Ohio, Raymond learned at a very young age that he was gifted in many ways, including the ability to read someone's eyes and using a regular deck of playing cards to read the future! His mother was from a Native American family, namely the Black Foot tribe, and his father was German. Raymond discovered that both sides of his family had a psychic legacy. Over the years he has gained additional knowledge from books and by talking to trusted family members. Raymond has been doing psychic reading for others for over 3 decades, and over the years he gained many loyal clients from all walks of life. Visit Raymond for a reading at PsychicAccess.com


This site uses Akismet to reduce spam. Learn how your comment data is processed.