The Robin Outside My Window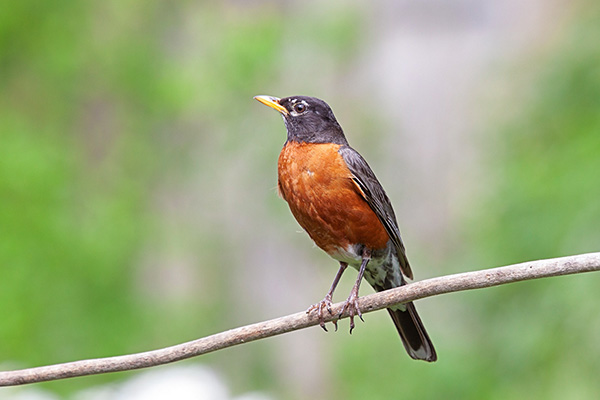 Birdwatching has become a favorite pastime for me over the last year or two. This morning, I noticed a robin building a nest on one of the air conditioning units on a neighbor's deck, directly opposite my window.
I was overjoyed! We've had very dry weather here in my state since mid-spring, causing robins to struggle finding nesting materials.
Some years ago, I found a newborn chick on a sidewalk while out for a walk. I could not tell for sure what species of bird it was, but it looked like it might be an American robin. I found no nest nearby to put it back into and had no idea what to do with it, but take it home. Sadly, it did not survive.
Since then, I've had some 'robin guilt' and wished I could have done more to save it. I suspect this stems from another robin incident, when I was growing up. Back then I also tried to care for older fledglings that ultimately didn't make it. Should I have let nature take its course, instead of trying to take things into my own hands?
Last fall, after the breeding season ended, I purchased some mealworms and placed them by the forested ridge at the end of the complex where I live. The hungry robins were very appreciative, especially after the first frost. It warmed my heart! I plan to continue helping the robins around my apartment complex as the drought continues.
The deeper truth is that robins always remind me of my father. The Latin name for the American robin is turdus migratorius, because it is a migratory songbird that is free-roaming and very sensitive to environmental conditions. However, because they are highly adaptable, their migratory habits tend to be sporadic, even random.
When the robin chooses your garden as its home, it serves as a reminder that you can create the type of year you want, full of possibilities and potential. Every time you catch sight of this avian visitor, take it as a sign that your future is yours to shape ~ Erica Jensen
I associate my dad with this bird because he's been choosing to remain homeless for many years, sheltering in Mexico or the southwest United States, when the weather gets cold here in Wisconsin. He prefers to live on the road and migrate with the seasons.
He lost his job as mechanical engineer in his early 50s and has since roamed free like the robins, migrating as and when it suits him. I insisted he live with me during the pandemic, but eventually he went back on the road.
I suspect I feel the need to help the robins, because I cannot help my dad in all the ways I want to. In Native American tradition the robin is believed to be a 'relationship' totem. As spirit animals their message is about family, home, and the loving heart. So, maybe it is not about me helping them. Maybe the robins are here to help me instead?
I will continue to watch my resilient new neighbor build her innovative nest with paper and dry grass. Maybe next year, it'll be my turn to have the robin nesting on my balcony.

About The Author: Esther

Esther knows the best way to survive trauma is to keep looking for the positives in life! She left a successful career as a pharmacist in 2017, to help others see their way through the darkness. She honed her psychic gifts and developed strong counseling skills that helped thousands. She hosts her own radio show on Wednesdays and has been a sought after guest on other programs. An expert in Astrology and Tarot, she maintains a list of 250 personal clients, she's served over 2000 clients from all walks of life, and has dispensed accurate information and insights to those in need. She uses a holistic approach that allowed her to deal with her own serious illness and avoid an organ transplant! In life, she's conquered pill addiction, divorce, a serious illness and has the life experience to help others overcome their own obstacles too. For over 10 years, she led an education group for psychiatric patients and has an acquired wealth of knowledge in general health and wellness. There's no better door to knock on than Esther's. This gifted intuitive has walked in your shoes and has come out the other side healthy, happy and fulfilled. You can find Esther at PsychicAccess.com.