My Great Grandmother's Mysterious 'Sugar Cookies'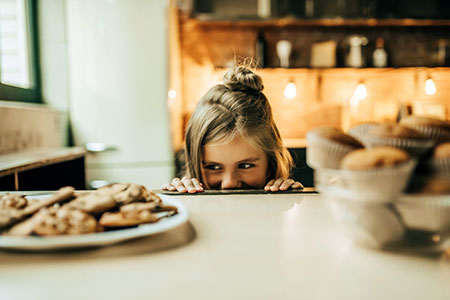 My great grandmother made incredible cookies. She called them "sugar cookies," but perhaps a more appropriate name for them might have been mysterious mystical magic cookies! Everyone loved them – youngsters like myself, as well as our family's elders, and every age in-between.
Those cookies still bring back so many wonderful memories. They had a special aroma of freshly-baked delight that wafted all the way outside her kitchen window and down the lane beside her charming little home, where she lived with my great grandfather. As a child I couldn't wait to get to their house, so that I could partake of those delectable sweet treats.
They were round, but not perfectly round. They had that authentic homemade look, which made them even more exquisite to my childlike enthusiasm. And, there was a rather unique spiciness among the ingredients; it was a spice that I had never tasted before in anything else. Oh, my! I especially loved the barely charred edges they usually had, as a result of leaving them in the oven a bit longer than necessary. Those crisp little edges made them all the tastier to me.
I remember sitting at her kitchen table, watching her scoop up the ingredients, one by one, and adding them to her mixing bowl. I didn't know how much of each ingredient she was using, because she never used a measuring cup. She just knew how much to add of everything. I believe this style of instinctively cooking from scratch is practically becoming a lost art, with all the digital recipes and modern utensils we use nowadays to cook even the simplest of things. And perhaps some of the true character and originality has also been lost in many of our ancestors' recipes.
Cookies are the sweetest little bit of comfort food. They are very bite-sized and personal ~ Sandra Lee
In any case, as the years went by my tiny great grandmother grew frail and her long, white, waist-length hair became more and more difficult for her to maintain in the braids she always used to wear. They were styled every morning, as she wrapped the braids round and round into a tidy chignon, which she pinned into place on top of her head. Wispy tendrils would escape from her carefully constructed hairdo throughout the day, but she always looked exquisite! How I loved to undo those braids for her in the evenings, and brush the long beautiful tresses.
But nothing about granny quite compared to those sugar cookies!  The interesting thing was that I never thought about why she called them 'sugar cookies.' Although there was obviously some sugar in the recipe, they weren't sprinkled with sugar as one would expect from a sugar cookie.
Sadly, the time eventually came for her to leave this dimension and we were devastated by her passing. Soon after, I was stunned when a family member mentioned that grandma's sugar cookie recipe had gone with her, because no one ever thought to learn from her how to make them, or at least write down the recipe! In my childish innocence I realized that there would be no more of her dear cookies. But, I silently made a vow that I would find those cookies somewhere, somehow.
As the years went by, I grew up and began to travel frequently.  Throughout my journeys I encountered many bakeries. I never passed by a single bakery without going inside and buying some sort of sugar cookie, but I could always tell with a single glance that they weren't my great grandmother's cookies. They were all covered in sugar granules and none of them had that certain (unique to me) spice, much less the slightly charred, crispy edge. And they were all perfectly round like a cookie cutter.
One day, decades later, I was sitting in the art gallery where I was the director, in Santa Fe, New Mexico, when a tiny little woman walked in with a basket in her hand and asked me if I would like to buy a dozen biscochitos from her. I had no idea what they were, but they were wrapped in foil and still warm from the oven, so I thought, why not, and paid her for a packet of them.
Grandmothers can always be counted on to produce sweets, cookies, and candies that seem to taste nicer from her than from anyone else ~ Elizabeth Faye
The little lady left, and I remember sitting there at my desk, all alone fortunately, feeling the warmth of the treats inside with both hands, not knowing quite what to expect. I slowly unwrapped those cookies, instantly smelling the aroma of that spice that my grandmother had used in her 'sugar cookies' (which I now know to be anise).
I took one of them in my hand, in almost a spiritual way, took a bite, and immediately tasted the familiar spice along with the faintly charred edges. The tears began to flow. These were my great grandmother's cookies that I had been looking for all these years! Of course, I ate the whole dozen in that one sitting. Indeed, magic was afoot, when I was least expecting it.
Although my great grandmother had lived in another state by the time I was born, she had grown up in New Mexico. Biscochitos, I have since learned, are the state cookie of New Mexico. I believe her mother also had made those cookies for her, when she was a child. Yet, when my great grandmother had moved from New Mexico, and took the recipe with her, she probably began calling them 'sugar cookies,' knowing that 'biscochitos' would be a meaningless word for most folks outside of New Mexico.
In indigenous culture we are taught that if we really want to know something, sooner or later the answer will come, one way or another, and often in the most unexpected way. In this case, it took quite a long time, but in retrospect it seems that the length of the journey is somehow parallel to the preciousness of the pursuit. All of the trials, errors and failures of my pursuit of those cookies were inherent to the deep gratitude I eventually experienced when, finally, I found the treasure.
And, best of all, now I can have my great grandmother's cookies anytime I want them. I can even make them myself, which I often do. I also make sure that they have all the homemade 'flaws,' just like the precious ones she made all those years ago.  People have often told me over the years that I seem to find such joy in the simplest things. Indeed, it is true. I would choose those cookies, so rich with loving memories and nostalgia, over the biggest pot of gold, anytime!
Morals of the story? Always remember where you come from. Know your roots, for there is no place like home. Never give up on finding the things that bring you joy, no matter how small. Always hold the memories intact, and keep searching. Sooner or later, your quests will be richly rewarded.
Most of all, cherish your loved ones. If your granny, mom, or aunt makes a family favorite you really love, make sure you get the recipe from her today. Ask her to teach you how to make it. Right now! And then treasure it, and share it with your children, and their children. For someday, when you least expect it, she may no longer be around to share it with you.

About The Author: Mountain Sage

For thirty-six years, Mountain Sage has been providing her much sought after insight, coaching and spiritual counseling to clients locally, as well as internationally. Many other psychics, spiritual counselors and healers, professionals, celebrities, and individuals of all backgrounds, have relied on her gifts to find their way through muddled times. Mountain Sage is the student of an exalted Gurugi in Bombay, and Shaman of the Fireheart Sweat Lodge in Santa Fe, New Mexico. Her extensive training includes Oracle, Healing, Universal Laws & Principles, the Sacred Circle and Psychic Shielding. She specializes in Ascended Masters, Altars, and Minerals. She holds the great honor of Oracle Carrier by her tribe due to her outstanding psychic ability, passion for the psychic realm, integrity and sacred work. She blends mystical understanding with practical application, and her art is connecting with the Divine. Get a psychic reading with Mountain Sage at PsychicAccess.com.