Soulmate Love Requires Patience, Hope and Perseverance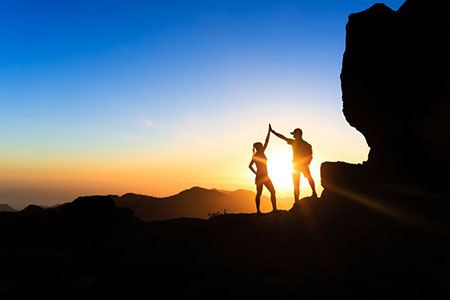 Should I wait for him? This is a question I have been asked many times in my work. Especially when there is a deep, strong soul-to-soul love, with a sense of eternity and meaning to it, this question naturally arises when such partners are parted.
The answer, I find, is within. It is not a matter of should or shouldn't, good or bad, right or wrong, nor even a matter of the outcome. It is a matter of heart. And it is a very individual choice.
An intuitive reading can support, but not substitute the process of discovering such a personal choice. As an empathic intuitive, for example, I can offer you a description of the energy I feel around your relationship situation, to provide you with information that may help you discern. I can also support you in trusting your own heart, and then in moving forward accordingly.
But the ultimate answer always lays within your own love and desires. From my experience of love in separation, I have learned that the path of patience, if chosen, will call for a profound degree of it, along with several stepping stones of spiritual qualities and concepts to uphold it.
Love between souls is a spiritual exchange. It steps back and views the beloved through the lens of eternity. It sees the individual spirit soul – the birthless, deathless being within – who is on an evolutionary journey, passing through human experience in this world.
You don't measure love in time. You measure love in transformation. Sometimes the longest connections yield little growth, while the briefest of encounters change everything. The heart doesn't wear a watch ~ Jeff Brown
In the words of the Apostle Paul, love is patient, kind, and keeps no record of wrongs. It does not envy, it is not proud, self-seeking, or easily angered. True love always protects, always trusts, always hopes, always perseveres…and never fails.
I often think of it like two friends climbing a treacherous mountain. The unbreakable strength of that buddy system could be the difference between life and death, what to speak of the success of reaching the summit. If my partner on the trek stumbles and falls, gets lost, needs rest, becomes scared or collapses…I've got his back! I won't berate, blame, or abandon him. I'll slow down, lift him up, bandage his wounds, allow him time to regroup his strength, and support him with confidence.
I'll do my best to keep my bearings straight and myself strong for this climb I'm committed to undertake together. All the while, though, I'll know that at any moment, I could slip, trip, fall, find myself in danger and be the one receiving his helping hand or leadership.
There may be times when we are both up, or both down, or one is stronger than the other, or vice versa. But this is all part of the partnership and our commitment to climb together.
Unconditional love really exists in each of us. It is part of our deep inner being. It is not so much an active emotion as a state of being. It's not 'I love you' for this or that reason, not 'I love you if you love me.' It's love for no reason, love without an object ~ Ram Dass
And so it is with the bonds of love between soul and soul, on the eternal path of life. The purpose of soulmates and twin flames is to ascend together to the summit of service in love of God. We set out on this expedition long before the present lifetime and will continue long after. What we are seeing, experiencing, and undergoing right here right now is just one small moment in the eternal partnership, one small span of the terrain we're traversing together.
Having this broader vision fosters patience, compassion, forgiveness, faithfulness and so much more. In union or separation, the spiritual dimension and purpose of this love endure, transcending traditional conditional perspectives, and thriving upon divine grace.

About The Author: Lotus Grace

Grace is the epitome of her name, having endured a troubling childhood that paved the way for an adult, gentle, energetic grace that she now delivers to others through the gifts of movement, dance, and through her many intuitive gifts that she shares with her clients. For 30 years, this Hudson Valley, NY State resident has cultivated a unique way of helping others, drawing upon God as her best friend, advisor, and the all-encompassing force that is the bedrock of her faith. Her journey has led her to heal and grow through the mud of life and compassionately support others to do the same. She's immersed in the world's diverse faiths with a core that is deeply rooted in more than three decades of immersion in the spiritual practices and wisdom of devotional lineages. Her inner relationship with God/Spirit has deepened the intuitive sights, sounds, scents, and senses that unfold profoundly when she dances. Since 2004, Grace has run a spiritual healing arts and dance sanctuary, where she intuitively nurtures children, teens, and adults. In her client readings, she taps into her Empathic, Clairvoyant, Clairaudient, Intuitive healing to help clients access the divine guidance they need. If you're searching for a little added Grace, spiritual energy, and the answers you need, you can find Grace at PsychicAccess.com.


One Response to Soulmate Love Requires Patience, Hope and Perseverance