Gratitude – A Message From My Guides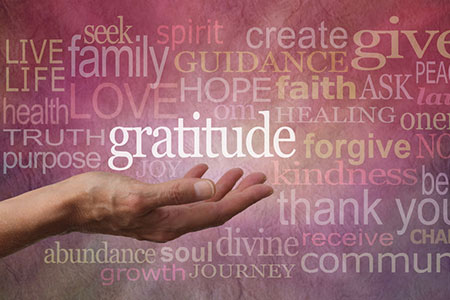 Sometimes when you are fearful or worried, the last thing you would envision thinking about is gratitude. When you are deep in grief, after the passing of a loved one, being grateful is also not your first thought. When you have lost a job, or have a sick child, the remote idea of gratitude can be the furthest thing from your mind.
However, it is during these times of worry, grief, or fear, that gratitude can be very helpful. If you can focus on even a small success, or a tiny attribute for which you can be grateful, it can make a world of difference to your perspective. Although changing your perspective will not necessarily alter your present circumstance, it can help you cope with your current reality.
Gratitude comes in all shapes and sizes. It can manifest in many forms at any time of the day. It does not have to be something magnificent or worldly, although it certainly can be something momentous, if that is what comes to mind.
Take a few minutes each day to be mindful and appreciative. Your focus can be as simple as having a safe home, or even a nice smile. Or it can be as complex as gradually improving health, or increased financial stability. It might be thoughts of a solid friendship, a dependable baby-sitter, or a full refrigerator. It can involve only yourself, or members of your family. It can encompass your entire neighborhood, your faith, or your workplace.
Gratitude is one of the sweet shortcuts to finding peace of mind and happiness inside.  No matter what is going on outside of us, there is always something we could be grateful for ~ Barry Neil Kaufman
If you can muster the self-discipline, keeping a gratitude journal can also be a pleasant diversion from the concerns of the day. Jotting down a grateful thought or two, regardless of how small or insignificant, can set your course for a more positive outlook and help to keep your life in balance, especially when you re-read entries from previous days, weeks, or months.
Reading excerpts from your gratitude journal can truly brighten your day. It is a simple way to remind yourself of many of the good aspects of your life, even as you are surrounded by the stress, sadness or chaos of daily living.
When you strive to find good in your world, you will find it a little easier to deal with the challenges that may arise. By focusing on gratitude, you send out positive energy. You uplift your spirits. You might even smile, if only for a moment. Even on the darkest of days, it is possible to find a glimmer of hope.
Happiness cannot be traveled to owned, earned, worn or consumed. Happiness is the spiritual experience of living every minute with love, grace, and gratitude ~ Denis Waitley
Additionally, if you express gratitude to, or with someone else, it doubles the impact. It can lift someone's spirit, or give others a reason to also smile. Your gratitude and positive focus may encourage them to change their own dreary perspective and help them to also see the world from a better vantage point.
Gratitude is free of charge. It does not cost anything to give yourself a boost by finding something for which to be thankful. Gratitude does not take away from anyone or anything else. It can be incorporated into any day at any time for any reason. Gratitude also does not make you late, ruin your diet, require special equipment, or cause you to let someone else down. Best of all, when you think gratitude, you are paying it forward.

About The Author: Monica

"What you think about, you bring about; what you believe, you become." This is Monica's philosophy, derived from her twenty-five years of experience as a Clairvoyant, Light Worker and Medium, living in Ontario, Canada. Monica has been a guest speaker at various Spiritualist churches, conveying Spirit greetings and messages from loved ones during Sunday services, All Mediums Nights, Healing Services, Meditation Services and special fundraising events. She's been an advisor to several international business leaders and connects with all of her clients on a level of love light and empathy. She delivers messages containing ideal outcomes and positive solutions with the help of her guides. If you'd like Monica to help shape your destiny, you can find her at PsychicAccess.com.