Easy Ways To Manifest What You Need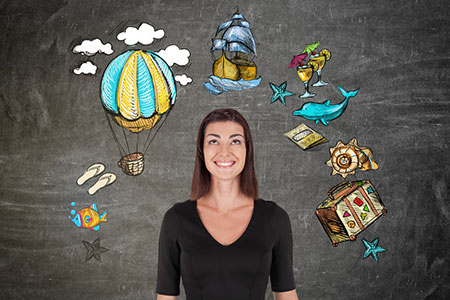 The belief some people have that manifesting is difficult and complex, or requiring much effort and resources, may stop them from taking action with something they truly need in their life. If you urgently need something special, or just a bit of good luck in your life, there are a few things you can do right now to make that happen.
Visualization
The first method is visualization, which is simple enough. Just relax, close your eyes and imagine how you want a particular situation to go. For instance, you can imagine having a positive conversation with your boss that ends with him realizing you really deserve that vacation right now, or that raise, or even that promotion. Okay, maybe you deserve all of that, but let´s start with just one of those outcomes for now!
The important thing with visualization is to feel as if you already received what you desire – to feel how your body and mind accepts the new reality. If it seems too difficult to accept, this might be part of the reason why you do not have it yet. Therefore, it is important to start practicing deliberate manifesting with those things that you honestly want, and feel are not too difficult for you to accept.
Finish your visualization with a positive statement of intent, such as, "May it be so, or something better for all." Then open your eyes. This could be done in just a couple of minutes, with some practice.
Manifestation is an act of trust. It is the soul pouring itself out into its world, like a fisherman casting a net to gather in the fish he seeks; with each cast properly made, we will bring what we need to us ~ David Spangler
Magical Water
Another simple method of intention setting for manifestation can be done with a glass of water. Water can be charged energetically. The process of charging the water with a specific energy requires a moment of concentration on the type of energy you need, for example inner strength, or success, or good health. Focus your mind on what you need, while placing both your hands over a glass of water, or even a bottle of water without the cap on. Do this for a couple of minutes, and then drink the water.
Knot Tying
One of my personal favorites for manifesting is 'tying a knot over your desire.' Much like visualization, you have to keep a clear idea in your mind of what you want, and also you need a short phrase to define it.
Let´s say, I am having trouble with my car, and it keeps breaking down. It's time for a new car, but right now I cannot afford it. The first step is to set your intention. Now, I would not say, "I have a new car," because I already know that it might feel like a lie or an impossibility while I am doing it, which will bring about a negative feeling. Instead I would say, "I am finding my new car," or "I am in the process of owning a new car."
Next, visualize yourself in the future, driving your brand new car. Then take a piece of string and tie the first knot, saying your affirmation as you tighten it. Repeat this process several times, visualizing your new car and stating your intention, while tying a knot each time. Do it at least ten times.
Manifesting your desires requires an understanding of the universe's abundance and inherently giving nature. If you ask from a position of fear or desperation, you are sending out your fear and desperation, and the universe, giving, reflecting, and non-judgmental as it is, will send those right back at you ~ Stephen Richards
After the final knot, tie the one end of the string to the other end, as you say, "So mote it be". Keep the string with your at all times, until it fulfills its purpose. Repeat the process if needed, or if what you want changes in the meantime.
On a final note, remember that even when things may not always turn out the way that we expect, every time we set intentions for manifestation, these actions put energies in motion, even if we don´t immediately see the effects.
Your success rate will probably not be 100%, but the results over time can be really surprising and will provide your with strong evidence. In time this will empower your confidence as deliberate creator. With repeated efforts you will notice coincidences that go beyond what you have experienced so far in your life.

About The Author: Paul

Paul is literally living his dream, counseling others from a bustling neighborhood in Buenos Aires, in the very place he dreamt of living as a boy. Born with a Clairvoyance that he desired to explore further, he developed his gifts as an initiate of a prominent esoteric school, studying under the tutelage of a Master who helped him to tap into the Divine Presence through Tarot and the Runes. Paul studied the Qabalah and Ceremonial Magic and founded a research group with some friends, which focused on applying spiritual principles to everyday life. For over twenty years, he has shared his talents and knowledge with others, becoming a sought after teacher as well as a highly valued Intuitive counselor. If you would like the deeper meanings of your situation revealed to you and are willing to journey with him down a path that will give you clear answers and fulfillment in your life, you can find Paul at PsychicAccess.com.