Thank Goodness, It's Friday The 13th!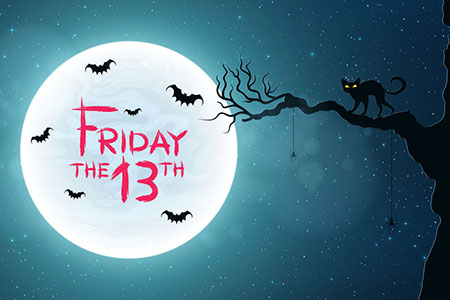 Superstition is a highly personal matter. For example, the number 13 was my Father's favorite number. It represented good luck for him. My dad was a highly intuitive man, always trusting his inner guidance when making important choices and decision. Things always seemed to work out well, whenever he paid close attention to his gut feelings.
I inherited his liking for the number 13. I guess you could say it is in my DNA. If given the choice of a number between one and twenty, I will always choose 13. My second choice is the number 3.
Like many people, I also love Fridays. It signals the end of the work week for many, and the start of the weekend. We generally seem to just be in better mood on a Friday. And while some people get the superstitious 'heebie-jeebies' about a Friday falling on the 13th day of a month, I absolutely love it. Yes indeed, thank goodness it's Friday the 13th!
You either love Friday the 13th, or fear it. There is not much middle ground in these matters. Every Friday the 13th is a great day for me. I wake up and put my feet firmly on the floor, feeling I'm lucky and grateful to be alive. Friday the 13th for me is like finding a four-leaf clover. It brings me good luck. Truth be told, I even feel more energized on a Friday the 13th, especially when it falls on a Full Moon.
We had another Full Moon just a few days ago. It is the perfect time to have a psychic mediumship gathering at the ocean. When the pull of the Moon on the tide is very strong, it is said that the veil between the two worlds is at its most thin. It is the most convenient time for Spirit to communicate with us from the Other Side.
Today, people around the globe will feel uneasy about getting out of bed, leaving their homes, or going about their normal daily routines, all because of a superstition… the fear of Friday the 13th ~ Sean Hutchinson
I can only speak for myself, but I am energized for a good few days around a Full Moon. So, this week's Full Moon on Monday, and today being Friday the 13th, is my idea of psychic bliss! If I can't sleep from sheer excitement, I venture out on my porch at my house here on the coast of Maine. The Full Moon is always shining brightly across the water this time of the month, illuminating the sky like a good omen.
According to the Farmers' Almanac, a Full Moon on Friday the 13th only happens once every 20 years on average. The next one will only be three decades from now, on August 13th, 2049.

About The Author: Elizabeth

Elizabeth's talents go back several generations. She found her own gifts and embraced them at an early age, recognizing the difference between herself and most others around her. She's since honed and mastered many metaphysical practices, providing hypnotherapy, Psychic Mediumship, Mysticism, and Hypno-Reiki to her clients in Maine, and in areas around the US and in Canada, where she travels. A lover of pets, they are her greatest teachers and these unconditionally loving creatures often chime in on a reading in addition to the Angels, Guides and loved ones who provide resolution and answers for each of her clients. Elizabeth is also an author with much spiritual wisdom to impart and is currently working on a book. If you'd like to be a recipient of her unique Psychic Wisdom, find peace and receive answers that will also benefit your highest good, you can reach Elizabeth at Psychic Access.


This site uses Akismet to reduce spam. Learn how your comment data is processed.