The Miracle Healing Power Of Prayer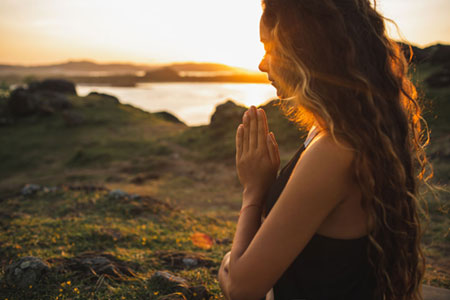 Every month, I host a healing prayer circle. All those who show up are invited to share what has been going on in their lives. Whoever may need a listening ear or a prayer, we go to work and pray for them.
Sometimes just listening to someone else's problems can also be very healing. Many people don't have anyone in their lives who will listen, and sometimes people say they will pray for us, but don't.
There is much power in prayer. I once again witnessed this with a lady who, while attending one of our prayer circles, experienced a instant healing miracle.
She is a mature woman who lives on her own and doesn't do much else but attend a knitting group and our monthly prayer circle. During one of our gatherings she shared how grateful she was for the group and that she urgently needed a prayer for herself this time. She had never before asked that we pray for her.
She had been experiencing severe pain in her spine and painful rashes. Her doctor had examined her two weeks prior and told her she had the viral infection known as shingles. She showed us some of the rashes on her body and it was clear that this was a severe case.
We then laid our hands on her, everyone present that day, and we prayed for her. She started to vibrate. I could feel it clearly in my hands. Her entire body was subtly vibrating and two of the other women said they could feel it too. I could also perceive white energy going through her entire body, and she said she could feel it too.
Prayer turns ordinary mortals into men of power. It brings power. It brings fire. It brings rain. It brings life. It brings God ~ Samuel Chadwick
Once we finished directing healing energy towards her, and praying for what seemed like only a few minutes, she suddenly stopped us. She was convinced that she had already been healed. She turned around and insisted we check the rash on her back. Much to our shock and surprise, it was completely gone! There was no evidence of it having ever been there.
She was so happy, as this condition had been increasingly getting worse and she suffered silently, until she had finally went in and got it diagnosed. She was in tears and overjoyed. This event once again confirmed to me our power as spiritual beings in human form.
If you don't believe in the power of prayer, you should, because it really works. I have been facilitating these healing prayer circles for more than a decade now, and I can confirm that healing occurs faster in those who believe in a higher power and the healing ability of prayer, and who have that gift of faith.

About The Author: Moon Goddess

Moon Goddess is a third generation empathic healer and seer. She started to give healing readings to people more than 20 years ago. She has always been interested and studied all things metaphysical from a young age. Being hypersensitive she can feel and see things before they happen. Utilizing the Tarot, and with the help of her Guides, she is a source of support for many people all over the world. After he passed over, her grandfather kept his promise and came back to say goodbye and gave her the most amazing experience. Moon knows there truly is a Heaven, and it is wonderful! Sharing her experience has helped many people after they have lost someone, or anyone experiencing some form of grief. Get a reading with Moon Goddess now at PsychicAccess.com.