Choosing A Spiritual Path With Heart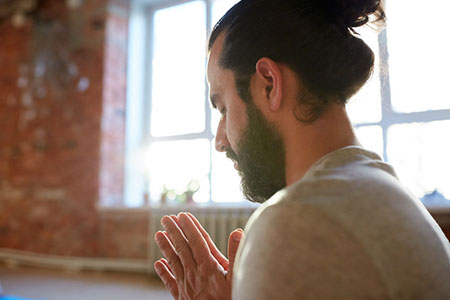 There are many blind choices we make when we are too young or inexperienced to make the best decisions for ourselves. We are born into a family, or raised in a culture, for example, with its unique traditions and beliefs, or lack thereof, and we are usually quite susceptible in our youth to these influences.
In the process of becoming an adult, the questioning of such beliefs and traditions leads us towards who we will become, to discovering what truly resonates with us, and what does not. But this is something we may have taken lightly in our youth, and therefore needs to be looked over several times in our life to find out with real sincerity what is truly calling us.
It is possible that being born in a traditional Christian home, for example, we felt constrained and limited, even small and powerless, ultimately causing us to reject all dogmatic religion. For someone else, brought up maybe in an atheist home, the search for God or faith may bring a profound sense of empowerment and life purpose that nurtures their life. It all depends on us as individuals, and how we process our own reality.
Carlos Castaneda writes in The Teachings of Don Juan: A Yaqui Way of Knowledge, "Before you embark on any path ask the question: does this path have a heart? If the answer is no, you will know it, and then you must choose another path. The trouble is nobody asks the question; and when a man finally realizes that he has taken a path without a heart, the path is ready to kill him."

But what does it actually mean for us to find a path with a heart? It means that we not only find a belief that we accept, but we also find a certain lifestyle, a way to connect with the Divine, be it through organized religion or perhaps a more individual worldview. In it we can connect with our emotions, our silence. It becomes our guidance in times of turmoil and helps us see ourselves as part of something greater that is unfolding, along with our personal story, instead of merely being isolated individuals.
Man is lost and is wandering in a jungle where real values have no meaning. Real values can have meaning to man only when he steps on to the spiritual path, a path where negative emotions have no use ~ Sai Baba
And this path brings us joy? The answer should be a clear and certain, yes! Happiness is a natural state. We are happy when there are no weights on our spirit or mind, so our soul feels open to the present moment, and connected to the underlying silence. Trouble may come, but we are not in a constant uneasiness thinking about the future, or remembering the past.
Does it bring us motivation, creativity and purpose? Yes, again. All these things are connected. Creativity flows from motivation, and motivation is fueled by happiness, and purpose is what helps us see the big picture when things seem dark.
Nobody is happy all the time. Things change and our reality manifests all sort of situations – some great, some nice, some difficult, some even unbearable. But we do not all live through these things in the same way. Purpose is the ingredient which helps us keep our focus on life and enduring the hard times.
Being open to suffering, accepting it as a part of life, is always the best option, as denial only brings more pain. But having your unique purpose in your heart is what gives structure to everything that happens to you, so that you are not blinded from the forest by just one particular tree.
Suffering is the last thing we want to think about, but if we are on spiritual path, with all our heart, we can deal and cope with anything, and we will not lose our sense of self, our love for the world, or our kindness.
The spiritual journey is individual, highly personal. It can't be organized or regulated. It isn't true that everyone should follow one path. Listen to your own truth ~ Ram Dass
The same goes for unexpected success or fame. We all know the tragic stories of instantly famous people who lose their direction in life, their sanity or even their lives, because they could get everything they wanted, or they were derailed by their overwhelming success, and eaten alive by their greed or destructive desires. Success and fame does not necessarily guarantee joy, happiness, or a sense of fulfillment. Some of the rich and famous lose themselves and their freedom to insecurities, anxiety, and lack of inner guidance.
A spiritual path is there to help us understand where we are in our lives, to protect us from our illusions and to give us structure and even discipline – perhaps just the simple discipline of prayer a couple of times a day, or meditation. A spiritual path guides us to a lifestyle that values kindness, compassion, charity, human connection, and physical and emotional health, above social status and material objects. It helps us find God or the Divine Energy in ourselves, and through ourselves, and the unconditional love to share it with the rest of the world… in any way we can.

About The Author: Paul

Paul is literally living his dream, counseling others from a bustling neighborhood in Buenos Aires, in the very place he dreamt of living as a boy. Born with a Clairvoyance that he desired to explore further, he developed his gifts as an initiate of a prominent esoteric school, studying under the tutelage of a Master who helped him to tap into the Divine Presence through Tarot and the Runes. Paul studied the Qabalah and Ceremonial Magic and founded a research group with some friends, which focused on applying spiritual principles to everyday life. For over twenty years, he has shared his talents and knowledge with others, becoming a sought after teacher as well as a highly valued Intuitive counselor. If you would like the deeper meanings of your situation revealed to you and are willing to journey with him down a path that will give you clear answers and fulfillment in your life, you can find Paul at PsychicAccess.com.