Step Back And Let The Magic Happen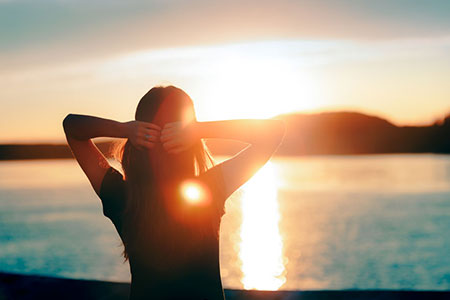 Have you been wanting something to happen in your life for so long and so strongly – like a proposal from your boyfriend or to purchase a new home – but you feel like it will never happen? You may want to consider the possibility that the Universe is throwing up blocks on these goals because it is not the right time for it to manifest. Never give up on your dreams.
If you think about your goal or wish as a puzzle, it becomes clear that the full picture cannot emerge until all of the pieces are in place. When the divine timing is right, you will be amazed at how perfectly and easily these pieces do fall into place!
Spending your energy on trying to control the process of manifesting can become very exhausting. You become stressed and anxious, wondering when you will ever be on the other side of achieving your goal. It is human nature to visualize your end result, which is a good way to continue the manifestation process, but be sure not to become too obsessive, or try to rush the process against what the Universe is delivering to you.
Slowing down and handing over control to the Universe can actually help your manifesting efforts. This not only align you better with what you are aiming to attract, but often also enables something to appear that's even more rewarding than what you were initially hoping to manifest.
Trust the process, one day at a time! What's for you is for you and no one can stop that! ~ Tony Gaskins
When you feel blocked from your goal, take time to focus on another goal, one where the Universe is guiding you on a smooth path of manifestation. Be patient, have faith. You will know you are on the right track when the process flows easily and you are receiving a lot of 'yes' messages related to your goal or desire.
As we grow and evolve, we actually resolve a lot of the blocks keeping us from our bigger goals. Every person you meet, every choice you make, will guide you along your path and these moments are to be cherished. If you think about it carefully, you will realize you would never have accomplished where you are today had it not been for the setback and obstacles in your life, which taught and guided you to a better place, which ultimately created amazing moments in your life.
We cannot be in control of what the Universe has in store for us, but if you fully accept that the journey you are on right now is just as important as the destination, you'll discover that you're on the right path. Relax, meditate, let the Universe take over, and you will find you are much more receptive to the gifts coming your way.
If you are vibrating on a frequency of lack or doubt, you could, ultimately, fail to manifest your dreams. We should be, instead, aiming for a frequency of consistent confidence and abundance ~ Katherine Hurst
Do not worry about how long things will take, trust that it will all happen perfectly, and according to the plan for your highest good. In doing so, you will be amazed at how many more opportunities fall upon you. And as you practice to let go more and listen to the Universe, your understanding will deepen. Life will become easier and more fulfilling when we trust the Universe and let things happen, instead of pushing ourselves to make things happen. It's actually quite magical.

About The Author: Amy

Amy resides in Arizona, but through her extensive travels, she has accumulated much knowledge and love for other cultures. She is a member of the Southwest Tarot Readers Association and follows her local Arizona chapter of Astrology. Amy has been a featured guest on metaphysical radio shows, she's provided readings at conferences and corporate events, has delivered lectures on developing your own psychic abilities, and she has shared her expertise on Tarot and Astrology, having earned her certification in both disciplines. Amy grew up seeing orbs and feeling energies but brings over twenty years of practical experience to the table as an accurate Psychic, Tarot Reader, Astrologer and Medium. She has read for hundreds of clients, including one very high-profile crooner! She is always expanding her metaphysical tool belt, offering her clients many delights on her magical menu, including channeling, dream life interpretation, crystal healing, and past life exploration. If you'd like a powerful reading that will also empower you to lead a happier, more rewarding life, you can find Amy at PsychicAccess.com.