Checking In With Yourself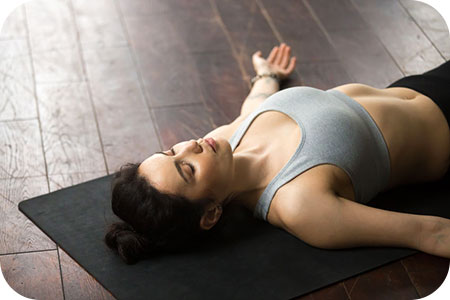 In today's hustle-and-bustle, busy world there is sometimes the need to slow down and take break. Take a moment to say hello to yourself. Do a check in. Catch up with you. As a wise man once told me, "You must start by starting!" Quite so, because it makes things much more confusing if we think about it too much.
The best time to begin your day is the previous night, when you go to bed. What's your current practice before going to sleep? Have you gotten your clothes ready for the next day? That is a handy practice that many people do. Have you gotten your soul ready as well? That is truly where to begin.
Saying hello to your soul is a powerful healing tool. Doing it consistently, just like having coffee or tea in the morning, brings you closer to yourself and takes you to a higher perspective. By you treating yourself kindly, it spreads outward. As you heal yourself, so shall you heal others.
So, we begin. Here you are laying in bed ready to close your eyes. Now is the time to be gentle and loving towards all of your being. Check in physically. Start from your crown chakra and move through your body with love, listening as you feel each ache or pain, and perhaps even surrounding it with healing energy, instead of what may be the usual refrain of cursing at it. I can safely say this works amazingly well.
Once I stopped 'damning' my pains and started enveloping them with love, they became easier to manage. If you are not used to 'checking in' with yourself, you may feel silly, even uncomfortable at first, but I promise you it is not a waste of time.
Mindfulness practices in which we explore the body, and the sensations arising from within, help us to build our capacity for self-regulation, self-control, and coordination of subtle internal phenomenon, such as activating the mechanisms that relieve pain ~ Deborah Norris
If you do feel strange at any point, a wonderfully comforting thing to do is to hold your own hand. Seriously, have you ever tried it? What an absolutely amazing feeling it is! Or you can use a technique that can help to calm your nerves by stroking your abdomen going in a slow, clockwise motion. Core work is a sacred area at any given time, but when using it to soothe yourself it can be especially mind-opening.
As you move through and do your physical check in, pay close attention to what your body says to you. We do physically manifest thoughts and feelings.
For example, the stomach meridian in Chinese medicine has 45 points along the body, of which many are concentrated near the shoulder and going up into the neck area. During your physical check in, you may sense actual pain in your stomach region while doing abdominal touch. Using a technique known as 'tapping' you can combine the physical action and tune it into the spiritual side, by tapping the meridian points to help literally calm yourself, or calm your nerves.
Do an entire check in, before you go to sleep. It is highly recommended to not have a television or other electronic devices in your sleeping space. And try to avoid stressful things at bedtime.
By practicing the body scan, I am learning to stay softly present to the United Colors of Stress as it tries to hole up in my body. More and more, I can notice what I feel without having to hold on to it. I can let it go and return to the present moment over and over ~ Elaine Smookler
Do this mindful body scan every night, say, for a week. See how you feel after. Perhaps keep a journal to write about the experiences you have. Rome wasn't built in a day, so at least try it! Nothing ventured nothing gained, after all.
The object is to be in true touch with yourself. Your entire being. Giving yourself such attention will only benefit you and those around you. Your aura will glow  from the love and attention you've shown to yourself. You will feel better and more centered. Each breathe will be both renewal and  affirmation that you are alive – in touch with yourself, with divine purpose and indeed divinity itself. Live in line with divine purpose by simply saying hello to yourself every day.

About The Author: Asherah

Asherah is a natural born psychic empath born and raised in Kingston Jamaica. An ordained Reverend and High Priestess, Asherah can easily tap into your real truth and help you to see clearly, releasing attachment to outcome by simply focusing on where you are now. Using tarot, numerology astrology and more..you can learn how to communicate your needs today! You can get a psychic reading from Asherah at PsychicAccess.com.