The Departure Of Miss Emeylia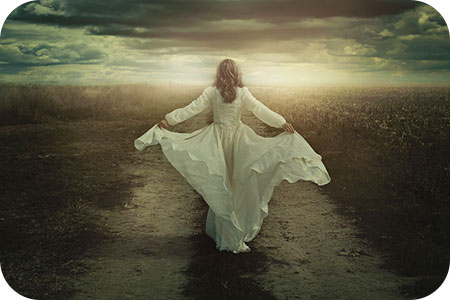 I have been receiving visitations from the very kind spirit of a lady for the past year and a half. Through automatic writing I was able to find out her name. Miss Emeylia.
She came by foot in her flight to freedom and was staying where I had found her, but ended up dying there decades and decades ago. There is the remainder of what was once an underground shelter in the basement of a popular restaurant, which I often frequented when I first saw and met her. She followed me home and has been here ever since.
I was finishing up doing a Tarot reading on the night before Halloween, before getting ready to do my Samhain ritual, when I caught a silhouette of Miss Em standing in the doorway of my living room. She was smiling at me and it looked like she had something to share, almost like she had a huge surprise or secret and was trying to keep it contained. She became more and more visible. She telepathically told me she was ready to move on. That she was ready to leave this place and go on to the next world.
I told her I had been enjoying her company, but was glad she was ready to move on. She happened to be right in the doorway that was to my left, which I thought had some symbolic meaning, as she was going through a doorway to her next world. She was standing in what looked like a portal.
She said, "I'm going to show you something." She looked up at what I think was her guide or an angel that was with her. I could see the light of the angel, but couldn't see the angel. She looked at me and said, "She says you can watch." I assumed she meant the angel.
The tears of our grief – and the stories we tell in remembrance – are what carry the dead across to the other side ~ Jessica Moore
She then looked to her left, where there appeared what looked like a hologram of images of her life, from the moment she was born up until the moment she passed. This took place in what seemed like a quick second, but it was so much to see that it also was like time stood still. There are really no words to describe what I had witnessed. It was absolutely better than any technology I had ever seen on this planet, I will say that much.
Miss Em then looked into the portal, which looked like an ethereal path to a different world. For a moment she seemed to hesitate, but her angel comforted her and encouraged her to move forward by stepping into the portal.
As soon as she crossed over, there remained only tiny bits of light that quickly moved deep into the deep space I could see, and it closed immediately. I was left amazed with the blessing of being included in here departure from this world. It was a big deal that she had made it possible for me to witness this moment. I thought it was especially significant that she chose to leave during Samhain, when the veil is at its most thin. I often wonder if she chose this time so that I could see her as clearly as I did.
Spirits and ghosts will come and go as they please, simply because no one tells them they can't ~ Amanda Linette Meder
She was a deeply spiritual person in life and I am so glad that I was able to have her share space with me, even though it was only for a short time by way of her spirit. It was a blessing and I am so glad she felt comfortable to attach herself to me and spend time in my dwelling before moving along to her next destination. I think in a way I talked her into it, a day or two before, because I had been getting ready for Samhain. She knew the veil was thinning and she would have that opportunity to leave in full apparition if she so decided.
I dedicate this blog to my dear spirit roommate for a year and a half. Thank you, Miss Emeylia.

About The Author: Moon Goddess

Moon Goddess is a third generation empathic healer and seer. She started to give healing readings to people more than 20 years ago. She has always been interested and studied all things metaphysical from a young age. Being hypersensitive she can feel and see things before they happen. Utilizing the Tarot, and with the help of her Guides, she is a source of support for many people all over the world. After he passed over, her grandfather kept his promise and came back to say goodbye and gave her the most amazing experience. Moon knows there truly is a Heaven, and it is wonderful! Sharing her experience has helped many people after they have lost someone, or anyone experiencing some form of grief. Get a reading with Moon Goddess now at PsychicAccess.com.