Do Loved Ones Become Our Spirit Guides?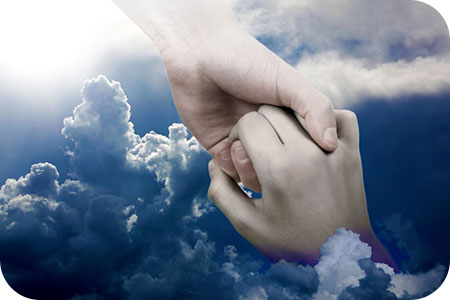 While doing mediumship readings, I often have people ask me if their loved ones who have crossed over are now their spirit guides. The answer is, no. While our loved ones, who have crossed over, do watch over us, and communicate with us through dreams and other means, they are not our spirit guides.
Becoming a spirit guide requires many life times of experience, schooling and training. Our loved ones can give us energy, love and light, but they are not allowed to interfere with our destiny in any way.
So, what is the difference between spirit guides and loved ones who have crossed over? Spirit guides are with us before we choose our life. They help us decide what goals we have and what we want to emphasize and work on in the next life. They remind us of the lessons in life we struggle with every life.
Our guides also remind us of the lessons we have avoided signing up for in our past lives. Have you taken on disability? Poverty? Wealth? Abuse? Fame? What adversities have you overcome and which ones will you need to take on? Often we feel we are being punished by these adversities when on earth, when in reality, we decide to take them on and gain the strength, compassion, empathy and wisdom they teach us.
Every soul will need to take on the mirror images of every human experience. Poverty and wealth. Sickness and health. Justice and injustice. Power and powerlessness. Freedom and restraint. These aren't punishments. Just like having to take English, math and science classes for your major in college is not a punishment. It is experience and knowledge. The sooner you learn the lesson required, with dignity, integrity, honor and honesty, and without vengeance, the sooner you can move past that lesson and onto the next.
On earth, families can be extensive. But there is a big difference between a human family and a spiritual family of humanity as a whole. Let's think beyond the box of petty materialism, which does not acknowledge anything beyond the five senses of the body ~ Kenneth J. M. MacLean
Our guides help us to decide what we are able to and need to take on for the next life. Our guides are there for us from the beginning and greet us at the end of our life.
Loved ones who crossed over were not there at the beginning or involved in the planning, and therefore do not have all of the information about our life contract. The one thing our spirit guides and loved ones who have crossed over have in common is, that they are all there when we cross over.
Our spirit guides know what our path is and when we go off that path. Have you ever had just horrible luck, where everything went wrong… and then you move, break up with someone or get a new job, and suddenly everything is balanced again? That was you drifting off your path and your guides helping you to get back onto the right path again.
Our spirit guides and loved ones are always aware of what we are thinking, doing and especially when we are struggling or having a beautiful life altering experience, like marriage or the birth of a child. They weave their love and energy into our lives in different ways, but they are always with us. When clients call me and tell me they feel lost or lonely, I always tell them, "If you knew how many light beings were around you, you would never feel alone."
You are never alone. You are loved.

About The Author: Satya

Satya lives in Northern California and is a natural Clairvoyant, Empath, Conduit, teacher, author, animal lover, healer, Reiki Master and an advanced yoga instructor. She has provided valuable psychic assistance to Hollywood stars, athletes, and everyone else in-between. A multi-layered Intuitive, with many unique gifts at her disposal, she can give you a doorway into the past as well as a gateway to a happier future. With her long distance energy work, she provides healing for people and animals too! She instantly spots karmic connections from past lives that directly affect current situations, helping clients to move through them quickly. For accurate solutions on just about any pressing problem, you can find Satya at PsychicAccess.com.


One Response to Do Loved Ones Become Our Spirit Guides?