How To Manifest Your Twin Flame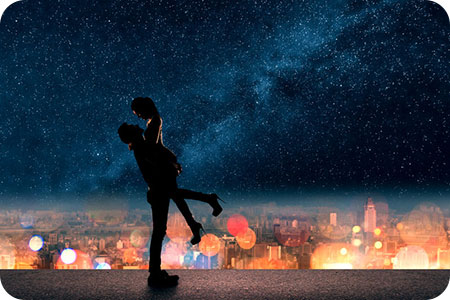 I began working with the Law of Attraction back in the early 1980s during the terrible recession Britain was experiencing at the time. I soon came to learn that no matter how unfortunate a person's circumstances, with the right mindset we can change it for the better – including our love lives!
After securing myself a job, against all the odds I faced at the time, I then decided to turn my attention to the wonderful subject of love and seek out my twin flame. We have now been married for nearly 30 years.
Before looking at how you could attract your own twin flame, it is essential to know exactly what is meant by this. Simply put, it is just another term for your soulmate. Your twin flame represents the mirror reflection of ourselves. Happily, a person's twin flame meets with them in each lifetime. Meeting them often feels like you have known them for years!
With Mother Earth being the home to approximately seven billion inhabitants, meeting your soulmate can be somewhat challenging. However, by effectively working with the Law of Attraction, you can help attract your ideal partner into your life, just like I did.
However, it is imperative that you ask yourself an important question before calling upon the awesome powers of the Universe to attract your ideal partner. Are you truly ready to meet that special person? The Universe, in its wisdom, will not bring anybody into your life until you are truly ready to unconditionally embrace that person.
What greater thing is there for two human souls than to feel that they are joined for life? They are there to strengthen each other and to be at one with each other in silent unspeakable memories ~ George Eliot
Once you are ready, you should naturally pick up on their energy before they enter your life. You will literally 'feel' them coming into your energy field. That said, you will also need to recognize your soulmate, once they do arrive in your life. You will do so intuitively, via your instincts, through which the spirit world guides us.
If you choose, however, you can always request that the Universe send you external signals as to when your soulmate is ready to come into your life. Remember though, please, to request a sign that is unique and personal to you, so you get true validation that your loved one is indeed on their way!
Fear not, you will never 'lose' your soulmate. Nevertheless, it is important to remember that as your relationship evolves, one of you could do an emotional runner! Whomsoever the runner may be, and yes it could be you, they will initially deny the connection and pull back big time… only to return, at a later date, after recognizing just how perfect their twin flame really is!
Ironically, it can be really unsettling when the life partner of your dreams turns up after years of waiting for them! Depending on a person's destiny, it is not uncommon for some soulmates to spend time away from one another until they are ready to reunite. After all, one soul may be more spiritually evolved than the other, thus leading to a sense of overwhelm and challenge for both individuals. Believe it or not, twin flame relationships can be somewhat difficult, but this is only because each individual will initiate lessons in the other, which need to be learnt, to enter into soulmate union.
While twin flame relationships can be challenging, they are also brilliant, and it is while developing one we learn a lot about ourselves and come to recognize why past relationships have failed. I distinctly remember how grounded and calm I felt when meeting my soulmate for the first time. Although I had asked for a David Cassidy look-alike at the time, I reminded myself that the Universe always knew who was best for me. I am always drawn to intelligent men, which my husband very much is.
I honestly cannot say that I have any regrets with regards to my soulmate marriage and even though it has been tough on occasion, the rewards, particularly with regards to spiritual development, have indeed been worth it. True, my other half may be much more scientific than myself, but he does understand my work to a degree.
The minute I heard my first love story I started looking for you, not knowing how blind that was. Lovers don't finally meet somewhere. They're in each other all along ~ Rumi
Today, when looking back, I have come to recognize why I had to lose both my job and my relationship all those years ago. I needed to find myself, as well as my spiritual purpose, and prepare myself to meet the man who was, and still is, right for me.
Manifesting Your Twin Flame
Begin by writing a definitive list of what you want in your ideal partner. Do not worry about being particularly specific, as the Universe needs to know exactly what you want in your soulmate.
Use visualization and meditation. Visualize the engagement ring, the wedding, the holidays and all the happy times you will spend together. You may wish to hold a piece of Rose Quartz while doing so, as this not only helps to heal past emotional wounds but also in attracting love into your life.  Should you have already met your soulmate, then meditation is an excellent means of strengthening your union.  Simply visualize sending a beam of healing light and love from your chest area to your twin flame's and observe that spiritual connection strengthen.
Add some affirmation. Affirmations are an excellent means of both attracting your soulmate and strengthening the bond with them once having done so. Consider the following examples:
My twin flame and I are fully connected and I send gratitude to the Universe for bringing us together.
I am connected, totally, to the energy of my soulmate, love flows between us and we experience true peace and harmony through our union.
My soul mate and I are truly inseparable and will unite in every lifetime.

About The Author: Lucinda

Lucinda is a highly trained Intuitive and Empath, living in a beautiful village in North Yorkshire, England. She possesses the rare gift of understanding a client's personal pain and has been through many challenges, herself, which has only made her stronger! It is both her calling and her happiness to help those in need. And whenever she needs a little help herself, her Guides are always there to assist in her development and provide clear interpretations for her clients. Prediction has always been a great tool she could count on to accurately foretell events, but Lucinda also draws on her expertise with Dream Interpretation, Numerology, Angel Cards, Law of Attraction and Life Coaching to provide full and detailed solutions to any problem. A member of AMORC and Beyond Freedom Evolution, she provides inspiration, education and personal support for spiritual development. If you'd like answers or want to attract your desires, you can find Lucinda at PsychicAccess.com.