The True Meaning Of Inner Peace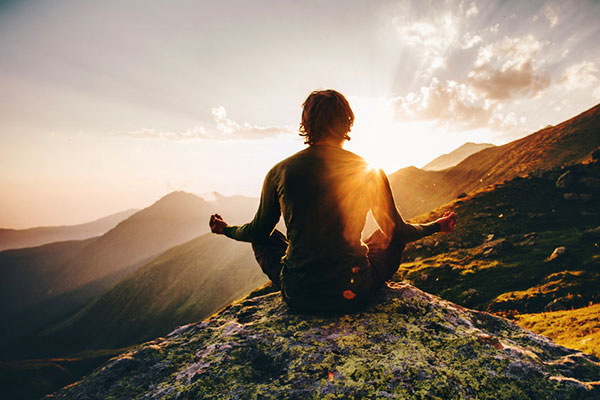 What does the word 'peace' mean to you? Well, the true meaning of this word came to me recently in an unusual way, while I was doing a psychic reading.
The client I was reading for told me at one point in our conversation that he was finally "at peace." All of a sudden, I felt as if I was sucked into a time warp. When he said the word peace in that context, it was like my own past went into this time machine and emerged in the present. It felt to me as if spirit was using this client's words to get my attention about my own personal life.
In recent years things have been difficult in my own family life, especially around Christmas, because I have not seen my son in many years. It has been challenging for me and everyone around me.
I made the classic mistake. We tend to think that if we focus very hard on avoiding something negative, we might block it or prevent it from entering our life. We believe this is the best way to control the outcome of what could happen to us in the future. Ironically, this is often the reason why we attract more negative things into our lives.
We also tend to think that 'being at peace' only means to eliminate and overcome stress in our lives. Or we think it merely helps us to sleep better. I have always known that if I try to live in a more a stress-free world in my own mind, I would feel better about my life in general. But I never considered peace to be a tool to use for finding a better way to deal with not seeing my son.
In life we have many potholes to avoid and many mountains to climb, and if we look to truly have peace in our life we need to come to place of deeper acceptance and letting go, instead of merely trying to be stress-free. True inner peace is a powerful medicine that everyone can use every day.
If you've got a world full of people who have inner peace, then you have a peaceful world ~ Wayne W. Dyer
Ogyen Trinley Dorje, the 17th Karmapa of the Karma Kagyu school of Tibetan Buddhism, teaches, "True peace cannot be achieved by force or by merely invoking the word 'peace.' It can only be attained by training the mind and learning to cultivate inner peace. Peace is a calm and gentle state of mind.
There is also much wisdom in the saying, "Let go…and let God." Maybe it is time to let some things in your life go.

About The Author: Raymond

Growing up on the streets of Columbus Ohio, Raymond learned at a very young age that he was gifted in many ways, including the ability to read someone's eyes and using a regular deck of playing cards to read the future! His mother was from a Native American family, namely the Black Foot tribe, and his father was German. Raymond discovered that both sides of his family had a psychic legacy. Over the years he has gained additional knowledge from books and by talking to trusted family members. Raymond has been doing psychic reading for others for over 3 decades, and over the years he gained many loyal clients from all walks of life. Visit Raymond for a reading at PsychicAccess.com