If I Were You And You Were Me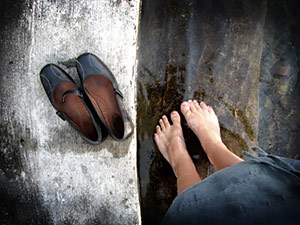 If I were you and you were me, what do you think it is would you see? Would you see my life, my losses, my sadness, my fears? Or would you see my happiness, my joys, my passions, and my purpose? If I were you, would I see the same? Would I feel your pain? Would I feel your hopes?
We all have the amazing gift, every day if we choose to, to walk in the shoes of another and feel what that is like. As a psychic reader I do that with my clients here at Psychic Access.
As a person it is up to me whether or not I choose to look at another and feel what it might be like to be them. True empathy comes from within, but it radiates around you if you allow it to, bringing people into its glow. Empathy, painful as it can be sometimes, also brings great joys with it. It allows the rhythm of life to become a true and honest part of you and raises your own vibration. The joy of people watching can bring great satisfaction!
Seeing with the eyes of another, listening with the ears of another, and feeling with the heart of another ~ Alfred Adler
In your relationships, putting the shoe on the other foot can be both good and bad. It can be used as punishment and it can be used as reward. It's up to you how to use that gift of empathy, that gift of understanding. It's powerful in the right hands, deadly in the wrong ones. Balance is key.
The next time you get into a fight with your partner, your husband or your wife, take a moment to step back from the fray and ask yourself: what are we really fighting about? What point is my partner trying to make? Am I hearing them, or am I putting my own experience ahead of the actual experience in front of me now?
No matter what, whether the shoe is on your foot or on the foot of someone else, someone is always going to have to take the next step. Steady as you go, darlings, steady as you go.

About The Author: Asherah

Asherah is a natural born psychic empath born and raised in Kingston Jamaica. An ordained Reverend and High Priestess, Asherah can easily tap into your real truth and help you to see clearly, releasing attachment to outcome by simply focusing on where you are now. Using tarot, numerology astrology and more..you can learn how to communicate your needs today! You can get a psychic reading from Asherah at PsychicAccess.com.


2 Responses to If I Were You And You Were Me