Finding A Psychic You Can Trust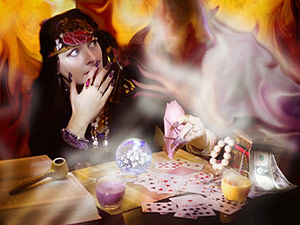 As a psychic it is not easy to find the right psychic to read for me. Like many psychics, I can do readings for others, but I can't read for myself. But trying to find the right psychic for me is like buying a car or a house – it is a process and a challenge!
Just like a house or a car, you look for a psychic who offers you certain special features that will suit your unique needs. There are so many psychics out there, who do you choose from?
When I was younger I needed the guidance of a good psychic from time to time for my love life. This was before the Internet. I remember deciding to take a bike ride on my 18x speed to find a psychic. Along the way I noticed a lady was moving in to a new psychic store, and she already had her sign out, before she was completely moved in. So, I decided to stop and talk to her, and she seemed really nice.
We often deal with the tragic aftermath of psychic scams, when the victim finally finds her way to us for skilled help and guidance ~ Doug Christman, Psychic Access
I told her I wanted to get a reading when she was settled in, and she told me to give her a week or so. Before I left, she told me something about my mother that my mom said to me before she died. And I thought, "Wow, this lady is good!" As the week went by I was really eager to get that reading and I made an appointment with her. She was working on building her clientele, and since she was not busy, I got in right away.
She started off immediately where she had left off, talking about my mother and other things about me. The thing that got to me about this lady was when the session was almost done, she said something about me having issues in my life because of my ancestors. I was having the problems today because of what my ancestors had done in my past. She told me I like your energy you have many gifts and one day you will do make a living working as a psychic yourself.
But then came the shocker!
She told me that in order to help me achieve my goals she was going to charge me $400 to get rid of the curse of my ancestors. I could not believe it. I looked at her in shock and I simply said, "But why would I do that… I can just pray to God and He will take care of it free of charge!" Then I walked out and I never went back to her. I realized then that not all psychics have your best interests at heart, and that you should be careful about who you trust to advise you on your life choices.
I knew I had the gift, she just confirmed it for me. I wanted to read for others, but in my mind I felt I was not ready. I had a mother who was psychic, and an older brother also, but I knew that there was more for me to learn about life first. I felt when the time was right God would open the right doors for me, especially for me to see that I was good enough. I first had to practice on my friends and I would at first be very nervous before I did readings for them.
The next time I had to find another psychic to help me, I was determined to find someone that was not just going to be another scammer looking at my wallet! Where I was working at the time we had a Las Vegas themed Christmas party and they had hired some psychics to do readings in the conference rooms. I wanted a reading, just to see what was going to happen my life with regards love and what else my future held.
I was the last on the list, and when I finally walked in the first thing he said was: "Wow, you have many gifts and I should actually be getting a reading from you!" So, we ended up exchanging readings there were some things he said that did come true. But once again he was not clear about my love life and I was getting to the point that I decided when the time comes it will happen by itself. I was not going to think about it anymore.
Phony psychics not only damage the reputation of other legitimate psychic services, but they also wreak havoc in the lives of innocent, vulnerable people. Our team of readers at Psychic Access too often has to clean up the confusion and distress caused by these fraudsters ~ Doug Christman, Psychic Access
Well, I never thought that another psychic would marry into my family. Her name was Candy and guess what… she used a normal deck of cards to do reading, instead of the Tarot. Candy was my new sister-in-law and she asked me if she could read for me, to help her practice. My brother John never told her that I also used playing cards to do readings!
When she started the reading she really hit hard on my love life. She told me stuff that was going on in my life at that time, and other stuff, and this reading lasted two hours! It was great. I wanted to return the favor and told her that I did the same thing she did, and without shuffling the cards I could tell her stuff also. We had a lot of fun that day, but the experience was also very meaningful to us both. It was so much better to get a reading from someone I knew I could really trust.
If you are looking to get a good reading, that will suit your specific needs and personality, take your time and do a little research on the readers that are available. Always remember that  a genuine, professional psychic reader does not ask for more money after you had already paid for their services. Also get referrals and try to find out more about them on the Internet or from people who have made use of their services. Of course, the easiest way to avoid all this effort and make your search easier is to make use of a reliable and authentic psychic service like PsychicAccess.com where all the psychics have been tested and approved, and where you decide how much you want to spend.
Remember that true psychics are ordinary human beings gifted by God to help others. Find the real ones, and stay away from those who do not have your best interest at heart.
And, just for the record, in the end I did marry the love of my life!

About The Author: Raymond

Growing up on the streets of Columbus Ohio, Raymond learned at a very young age that he was gifted in many ways, including the ability to read someone's eyes and using a regular deck of playing cards to read the future! His mother was from a Native American family, namely the Black Foot tribe, and his father was German. Raymond discovered that both sides of his family had a psychic legacy. Over the years he has gained additional knowledge from books and by talking to trusted family members. Raymond has been doing psychic reading for others for over 3 decades, and over the years he gained many loyal clients from all walks of life. Visit Raymond for a reading at PsychicAccess.com