The Potent Power Of The Tarot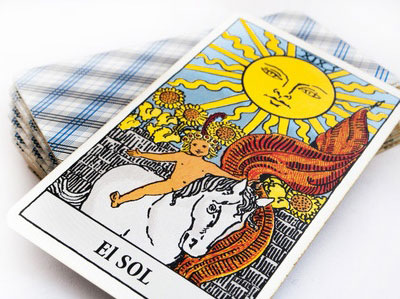 One of my favorite tools to work with for divination and self-exploration is the Tarot. The Tarot is my closest friend, and always by my side during readings.
You know how sometimes in life you get a feeling about something, but you aren't quite able to put it into words?  Well, that's how the Tarot assists me when I read for people. It helps me bridge the everyday life with the esoteric, and translate psychic messages in a practical way.
Sometimes it is as simple as the actual picture on the card having a single element that pops up for me, screaming to be noticed.
Tarot is always whispering to you. Tarot weaves truth, stories, secrets, and tales. All you need to do is slow down and listen ~ Sasha Graham
For example, the Major Arcana card 19, The Sun, in some decks shows a child riding a horse in the sunshine. One time during a reading, with a woman who's son was struggling with his studies and had disciplinary issues, The Sun card continually came up.
It was puzzling at first, because one of the traditional meanings for The Sun card is 'success.' It didn't feel appropriate to tell this woman that even though she and her son were having such difficulty at this time, that they were assured a successful outcome!
But, when I took a deep breath and just 'went blank,' so to speak, so I could bring forth a clear message from Spirit. The horse on the card jumped out at me. It occurred to me to ask my client if she had ever considered taking her son for horseback riding lessons. She gasped and told me that her neighbor had just bought a riding horse and had invited her over for tea next week. It hadn't crossed her mind to bring her son and inquire about lessons!
A month later my client got back to me about her son. He started taking horseback riding lessons, and as a result his grades have improved, his mood was happy and uplifted, and the disciplinary issues were significantly reduced.
The Tarot tends to fill in the blanks during a reading, to clue me into details or multiple subjects at one time. Tarot spreads or layouts can have any number of cards to them. Each card falls into a position in the spread offering further clarity to a situation.
The Tarot is an outer oracle of which the inner oracle is the source ~ Philippe St Genoux
Say you have a simple three-card spread. The first card on the left represents the recent past, the second card in the middle represents the current time or what's happening now, and the third card to the right predicts the immediate future. I like to add a fourth card to this three-card spread, by placing it at the top as a clarity card, or summation of the reading. Further insight can be gained by the forth card atop the spread by revealing possible habit patterns my client holds or, depending on the suit, an action that can be taken to help support my client's desired outcome.
I mentioned earlier that card spreads can cover multiple subjects at once. In one reading. My client asked about a job promotion at work, but Spirit instantly also led me to the subject of love and relationship. My client wanted to know about her work situation, and one of the cards she got was The Emperor, which fell between The Star and The Ace of Cups cards in the spread. For work, this translates to my client's talents being recognized by her superior and that she is up for a possible promotion, plus really finding her heart's passion in her work.
However, I couldn't dismiss Spirit bringing in the topic of love, when I first got on the phone with her. So, I asked her if it was okay to talk about love today? Through those same cards, two different topics were now being addressed. My client acknowledged that she just met someone and that it was the next thing she wanted to talk about.
Looking at The Emperor, surrounded by The Star and the Ace of Cups, I intuited that she was divinely guided to meet her soulmate and that they would fall madly in love. The Emperor in ancient Tarot card meanings signified not only love, but 'the one,' or our closest soulmate.
Tarot Reading is an art based on intuition, interpretation, and perception ~ Nikita Dudani
The Emperor is also the fourth Major Arcana card in the deck, carrying the number 4. When I asked my client the birthday, month, day, and year, of the new man she was dating, I added it up, reduced it numerologically, and guess what? Yep, his birthday reduced down to the number 4!
But that was not all. A third topic, and possibly the most important, that corresponded to the same Tarot spread came up when I heard the name "Harry" psychically, and intuited this as her father or someone on her father's side of the family from Spirit. My client confirmed this and told me her father's name was Harold. He and her aunt Harriet, his sister, were both deceased.
Here was yet a third way to read the Tarot cards from that same spread. The Star card meaning: your spirit guides and deceased loved ones are watching over you. And the Emperor, her father, (another meaning for The Emperor is someone's father) was opening doors for her at work toward a promotion and her life path. He was also helping her meet that special someone who she will have a fulfilling love life with. The Ace of Cups indicated in this position fertility and pregnancy, which finally pointed to the possibility of her having children in the future. My client was very interested in this too.
So, many topics can form many different sentences in just a few Tarot cards in a spread. It's a potent divination tool and one I have fallen in love with. I can never have too many decks, as I own over 170 already. I think it's an addiction, but my friends are nice enough to call me a collector…

About The Author: Isadora

Known as The Psychic's Psychic, since 1998, Isadora has read for thousands all over the world, her impressive list including clients from the Obama administration, Fortune 500 CEO's and notable names in Hollywood. Her detailed (Gemini) accuracy is nothing short of astounding, with her ability to see people at the Soul Level and clearly answer questions on a wide range of subjects, from relationship matters, business decisions, to past lives, etc.—anything that requires clear answers and pin-point insight. She has the ability to identify hidden patterns that run beneath your current situation, providing you with information to positively change your future. If you'd like a reading with this compassionate, straight forward, laser-accurate and dedicated Psychic, you can find Isadora at PsychicAccess.com.


This site uses Akismet to reduce spam. Learn how your comment data is processed.