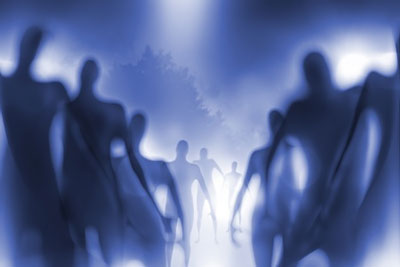 Earlier this week, I called upon my spirit helpers to assist me in finding some direction. I needed some help with something which, although not yet urgent, has been niggling at me. I needed to find some information which I would require soon.  Although there is information on the subject available online, I hadn't been able to come up with anything useful to date, even after doing several searches.
So, two night ago, I asked my guides to point me in the right direction and sure enough, today, I did a random search, typing in keywords which literally 'popped up' from nowhere. These search terms brought up some useful information and contacts. I believe spirit delivered, and quickly!
When I invoke spirit's help, I usually call upon my angels and guides individually, but this time, prior to going to sleep, I envisioned I was liaising with the same council of wise beings I recall being summoned to during a life threatening illness many years ago. At that point in my life there was a decision to be made in the presence of these wise souls, as to whether or not I was going to come back to this earth plane. I was on life support at the time. I guess the choice must have had something to do with completing a life contract in this world?
Your Spirit Guides and Angels will never let you down as you build a rapport with them. In the end, they may be the only ones who don't let you down ~ Linda Deir
I often use the above technique when there is someone, either alive or deceased, with whom I wish to resolve an issue, or discuss something with, and when I am unable to do this person to person. For example, when I wish to talk to my deceased father, after invoking the help of my spirit team and prior to going to sleep, I say: "I am going to meet with my Dad." I say this three times, as I imagine a magical meeting. The threefold repetition is once for body, once for mind and once for soul. This works a lot like a prayer, by which we send out the desire to the astral plane and program our brain to allow this contact to take place.
Our spirit helpers are wiser than we are and they know the best way to orchestrate such meetings. They know what is needed to solve problems so much better that we ever could. Your patience will be required, so if it takes a couple of days, or even weeks, for spirit to deliver the guidance, hang in there!
The above is a form of astral projection and a lot can be worked out on that level, be it a conflict with someone or getting the answer to a question. However, it is best to only ask one question at a time, in order that there is no confusion. You might wake up with a specific answer in your mind, or it may have been resolved in a dream you recall in detail. My clients who have used this technique, describe frequently in great detail how they were able to talk through a problem with someone they were unable to get through to in the usual way, either because the other individual was deceased, or just downright stubborn.

PsychicAccess.com.


Shani is a qualified practitioner in Reiki, aromatherapy, reflexology, body spin, and animal telepathy who received psychic development training at the Arthur Findlay College of Psychic Research in England. A published writer, her articles and predictions have appeared in several respected magazines and on psychic websites, and she has read for many celebrities and even heads of state in Africa. Though she was born in London, Shani has traveled the globe and has studied the art of African Mysticism, bringing her unique flavor to those seeking her incredible talents. Get a reading with Shani at
One Response to "Asking Your Spirit Helpers To Help Solve Problems"