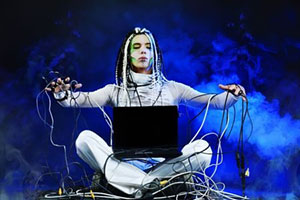 A few years ago I received messages from Spirit about advancement in technology that was coming that would allow people to achieve higher states of consciousness. At the time there was nothing like this on the market. These technologies are now becoming available to the general population.
For example, there are now new devices coming on the market that can register consciousness. Yes, today we are talking meditation in the technological age. We now have technology to assist us in this traditional spiritual practice.
When I first read about these new devices I was amazed at the potential it offered to help individuals learn how to be conscious contributors to our world. This is an amazing advancement in what is available for the spiritual seeker.
Any sufficiently advanced technology is indistinguishable from magic ~ Arthur C. Clarke
I have done psychic readings and spiritual counseling for people from all walks of life, and when I bring up the subject of meditation I normally get the same response: "I can't meditate. I have tried, but it doesn't work for me."
First of all, I do not believe this is true for anyone. I can remember my first days of meditation when I would get five minutes out of a fifty minute session. My mentor would get excited and say, "Wow. That's great. You had five minutes away from the tyranny of your anxious thoughts!" I didn't know what he meant at first, but as I stuck with it and followed instructions I was able to hold that state much longer. Fortunately we now have technology to make the process of learning to meditate much easier!
The new consciousness devices measure brainwaves. When you wear this device you get immediate feedback on how you are doing.  The manufacturers also offer programs through apps available for smart phones and tablets that assists the meditator, by giving strategies for conscious living. These programs include visualization exercises and binaural sounds conducive to a higher state of consciousness. It is like having a personal yogi in the palm of your hand! Better yet, this yogi provides immediate feedback on your progress by measuring your results. The apps often have incremental steps on your journey to awakening. So, not only can you sense the immediate results, but you can also advance and maintain higher meditative achievements.
We live today not in the digital, not in the physical, but in the kind of minestrone that our mind makes of the two ~ Paola Antonelli
I do not believe that this is the only method for achieving evolution within the context of our human journey.  Not every technique or technology will work for every individual. So, pay attention to your gut feeling when it comes to adopting new concepts, technologies, and methods. Find what works best for you.
It is pretty rare for me to get excited about new technology.  When the new iPhone comes out, or the latest tablet is launched, I certainly appreciate it, but I never have the same reaction as my peers. But now I must admit, I finally understand the "fan boy" or "fan girl" anticipation for a beloved piece of technology.
The spiritual potential for this kind of technology is astounding. I must admit that I am not a proponent of transhumanism (humans becoming or integrating themselves with machines), but I do love technology, and increasingly find it beneficial in my personal spiritual practice.

PsychicAccess.com.


Cosmic Coach (James) has mastered many techniques in his psychic practice to connect with the unique heart center of each of his clients. He is a Reiki Master of many traditions, who is adept at crystal healing, card readings, and delivering detailed messages from Angels and Guides. A Christian Minister, a teacher and an Energy Guide, living in Michigan, James is always expanding the base of his knowledge to broaden his reach and serve as many clients as possible. To experience a unique reading personally designed for you, you can find Cosmic Coach at