The Pagan Origins Of Valentine's Day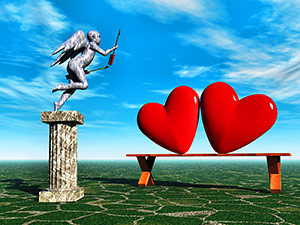 Valentine's Day, that many people all over the world celebrated recently, has its origins in the pagan rituals of the past. This is in fact true of many of our modern holidays. But how did we get our modern-day Valentine's cards, Cupids, and hearts?
In ancient Rome, the festival of Lupercalia was annually held on February 15th. As with similar Roman holidays, such as Ostara, this was a time to celebrate fertility and love. The deities honored were Lupercus, patron of shepherds, Juno, goddess of marriage, and Pan, another fertility god.
In a custom which survives in another form today, young men would randomly draw the names of eligible women from a jar or urn. Whether or not they exchanged flowers and candy is more debatable. It is also interesting to note that Cupid, the son of the love goddess Venus, was not originally linked specifically with this festival, even though he is associated with it today.
In Valentine's Day or in any other day, the brightest star is not Venus or Jupiter but the very love in people's heart! ~ Mehmet Murat Ildan
Venus, it turns out, was particularly fond of red roses and this custom survives after 2,000 years. As for the symbolism of the heart, this is also an ancient image found across many cultures, including Greco-Roman, Indian, and Meso-American. Instead of romantic love, it was often used to represent rebirth, purity, and spiritual love.
When the Roman Empire began to shift away from the pantheon of mythical gods and toward Christianity, its rulers simply decided, as with many other pagan holidays, to overlap. The modern holiday is centered around the legend of a third-century martyr, St. Valentine, who conducted marriages in secret during the reign of Claudius II.
Today Valentine's is much easier to celebrate than the way the Romans once did. The Lupercalia festival involved men stripping naked, then chasing eligible women with whips and prods in hopes of increasing their fertility. Most people might be happy just to get a simple card and box of chocolates (another food with so-called aphrodisiac powers) instead of going through all that!
The customs we practice today date mostly from the Victorian era and sooner, but many of them are taken from antiquity. The phrase "wearing one's heart on the sleeve" dates back to Roman times!

About The Author: Mystic Shelley

Mystic Shelley is a Psychic Medium. She has been reading for over 15 years helping and guiding people. She uses my 8 spirit Guides during her readings. She reads in the area of love, relationships, career, money and all matters of love. She will give you only honest and direct answers. Get a reading with Mystic Shelley now at PsychicAccess.com